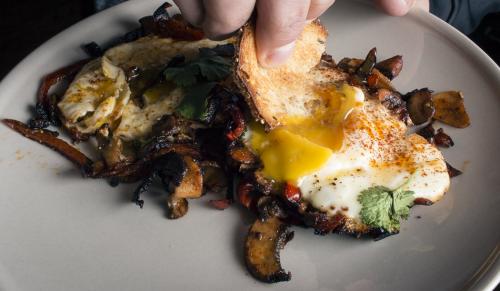 Valentine's Day falls on Sunday this year. My favorite time of the week is always Sunday morning. Tas and I like taking our time and enjoying the moment on Sundays. We stay in bed a bit longer than usual. When we finally get up, Tas makes us a nice coffee in our French press, I throw together a breakfast with minimal dishes, and then we cozy up on the couch watching Bloodline on Netflix.   This sounds so cheesy… But what the hell, it's Valentine's Day, right?
There's something very sensual about a runny egg yolk. I won't get into the particulars of why that is since this is a food blog and I'm trying to make you hungry… This skillet is super easy to throw together and is perfect for a quick brunch for two. Stay in this Valentine's day! Everyone will be rushing to put their names down at the best brunch spots in town and waiting around to have $12 over-easy eggs. Save yourselves and make brunch at home. Stay cozy!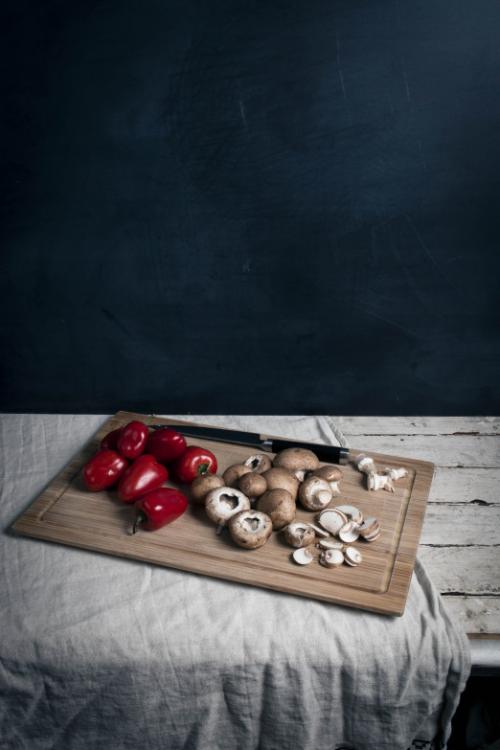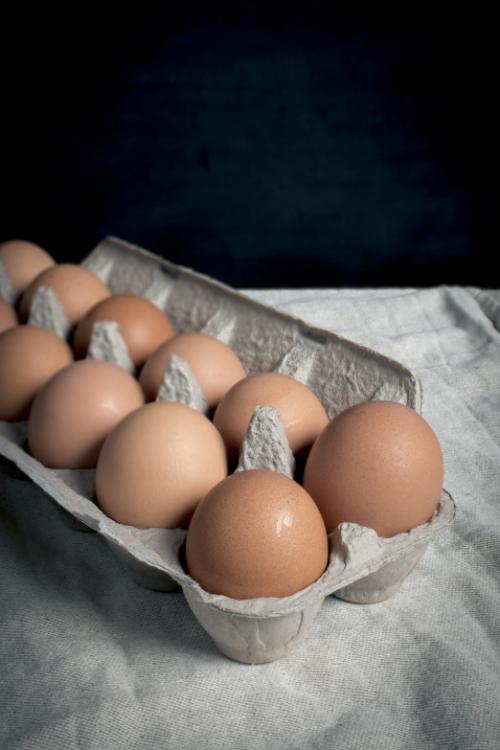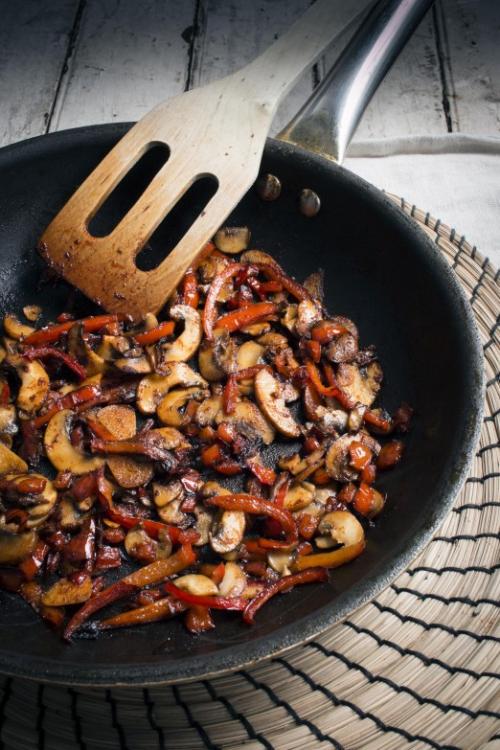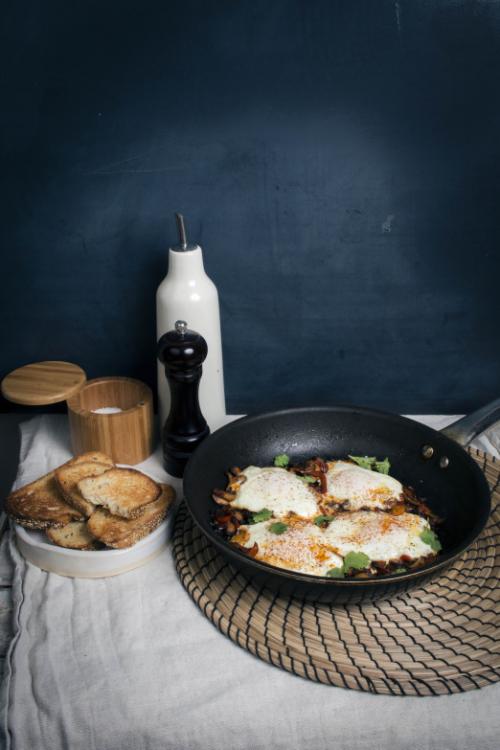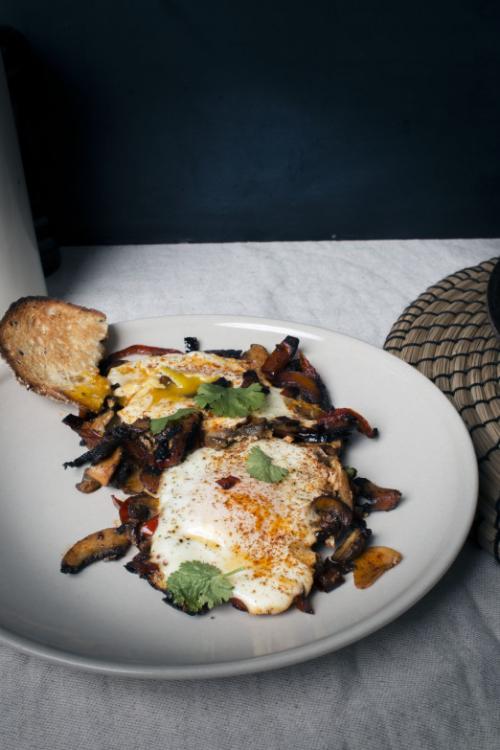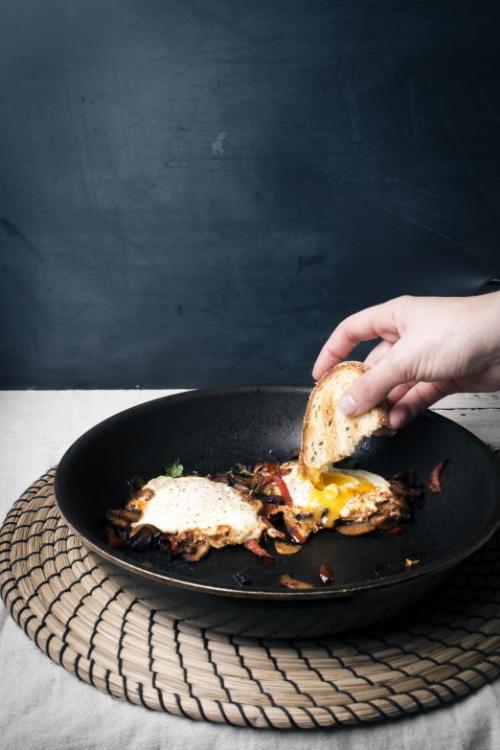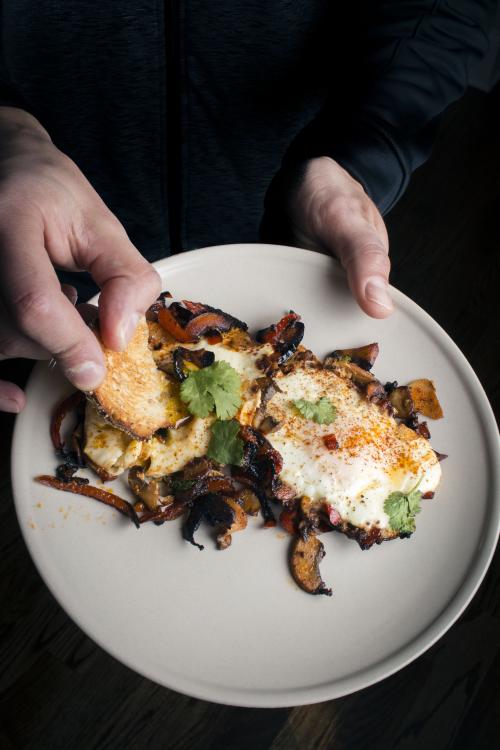 RED PEPPER AND MUSHROOM SKILLET
BRUNCH FOR 2
1 1/2 tbsp olive oil
1 1/2 tbsp unsalted butter
1 large or 6 baby red bell peppers, sliced or diced
8 oz (230g) baby bella mushrooms, or other kind, sliced
1 clove garlic, sliced thinly
1 tsp sweet hungarian paprika
1/4 tsp cumin
2 pinches of salt
4 eggs
salt and fresh black pepper
cilantro, garnish
paprika, garnish
Toasted bread or pita to serve
Heat the olive oil and butter in a large skillet over medium heat. Add the peppers and sauté for about 4 minutes, tossing occasionally until softened and fragrant. Add the mushrooms and garlic to the pan and sauté for another 3-4 minutes until the mushrooms have softened and stared to brown. Add the paprika, cumin, and 2 nice pinches of salt and sauté for another minute or so. Move the mushrooms and peppers around to create 4 pockets for the eggs to sit in. Crack the eggs into the pockets. Let the eggs fry for 2 minutes, cover the pan and let the eggs fry for another minute. Turn off the heat immediately. Season with a bit of salt, fresh black pepper, cilantro, and a dash of paprika. Serve with toasted bread or fluffy pita. Enjoy!