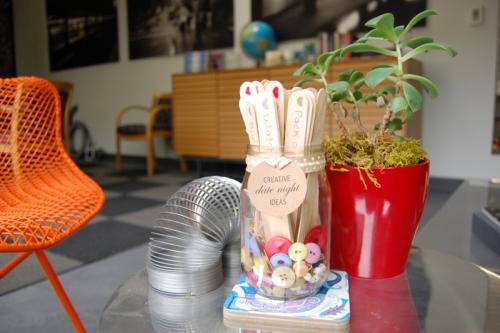 Whether you've been with your boyfriend for a year, or just celebrated your 10-year wedding anniversary, it can be easy to get stuck in a date night rut. That's why we love the idea of a Date Night Jar—it's fun to make and the both of you can contribute ideas.
Here's what you'll need to get started…
Materials:
Mason jar
Jumbo craft sticks
Markers or colored pens
Cardstock
Colored buttons
Ribbon
Scissors
Preparation:
To get started, brainstorm activities you both want to do. Maybe finally trying that new restaurant your friends have been raving about, trying an adventurous sport together, or simply enjoying the sunset with each other. We recommend an even split between your ideas and his.
Below are a few Date Night (or Day) ideas:
Free
Pack a picnic basket
Stargazing
Sunset hike
Take a stroll through the park
Watch the sunset
Window shopping
Cheap/Affordable
Classic: Grab dinner and a movie (she chooses the restaurant and he picks the movie)
Go to the zoo
Listen to live music
Mini-golf tournament
Rent bikes and explore the city
Visit a local museum
Splurge
Couples massage
Craft beer or wine tasting
Enjoy a dinner cruise
Go to an amusement park
Have a staycation at a bed and breakfast
Take a dance class
Remember, the point is to have fun and choose things that you guys will enjoy doing together!
After you've created your list, it's time to divide the craft sticks into three categories:
Silver Heart: Wallet-free dates nights
Green Heart: Things you can do away from home but are less expensive
Red Heart: Dates you can splurge on
Grab your list of date night ideas and write them on the jumbo craft sticks.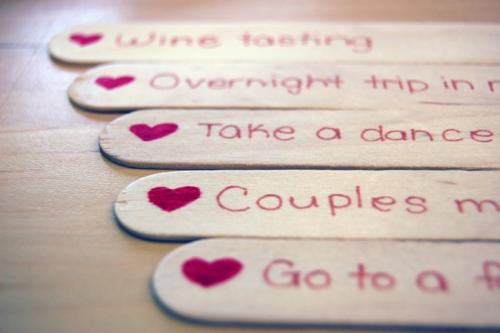 Now it's time to decorate your Date Night jar. We added colored buttons to make our Date Night Jar stand out on our shelf.
Then we made a label out of cardstock (inspired by The Chic Site) and wrapped it around the neck of the jar with a ribbon.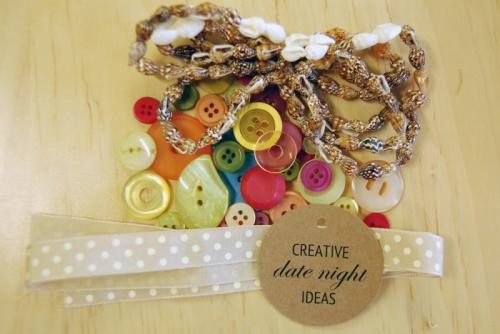 When you're done, place your craft sticks in your Date Night Jar.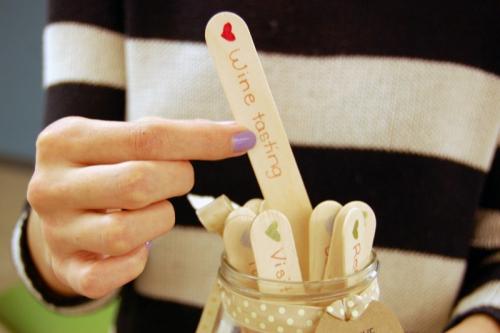 And that's it! Now the next time you think you have nothing to do, go to the jar! Since you've created all the ideas, it's guaranteed to be something you'll enjoy.