I am very picky when it comes to perfumes as I want to make sure that the scent I am choosing really represents me. Floral and fresh fragrances are the ones I always tend to go for – they smell so lovely, are not too overwhelming and are very feminine. I received 3 perfumes that I wanted to share with you guys as they are simply amazing and I am sure a lot of you will like them too!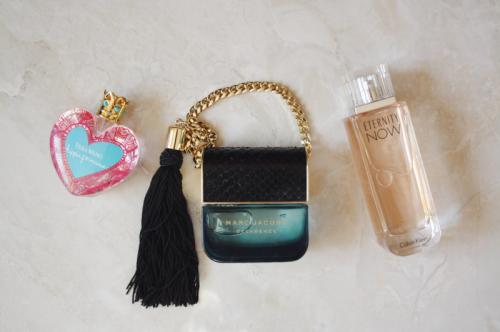 Princess – Vera Wang
This perfume has a sweet fruity and floral scent. It contains beautiful notes of Water Lily, Mandarin Meringue, Gold Apricot and Lady Apple amongst others. It is an enchanting and feminine fragrance that is perfect for day and nighttime wear. When I first spray it on my skin, Princess is more on the strong sweet side, but as the day grows it turns into a deeper and more subtle scent that I just adore. As for the packaging, it is so adorable and precious!
Decadence – Marc Jacobs
This is the most beautiful packaging I have ever seen for a perfume. Decadence is a very woody, sensual and luxurious fragrance. It has notes of Italian Plum, Iris Flower, Saffron, Bulgarian Rose, Jasmine Sambac and Orris. It a bit too deep for my taste to wear on a daily basis but I will definitely keep it for evening events, dates and special occasions!
Eternity Now – Calvin Klein
This is my favourite fragrance out of these 3. Eternity Now is a real burst of freshness as it has such a lovely floral scent with a very subtle touch of sweetness. It is a gorgeous bouquet of Lychee sparkles mixed with lush Peonies, Beach blossoms, Nendi petals and Quince sorbet. The pinky, sleek and feminine bottle is as beautiful as the perfume itself.
These would be perfect gifts if you are looking for ideas this Holiday season!
Let me know if you have them and what you think of these fragrances – or if you have any other to recommend