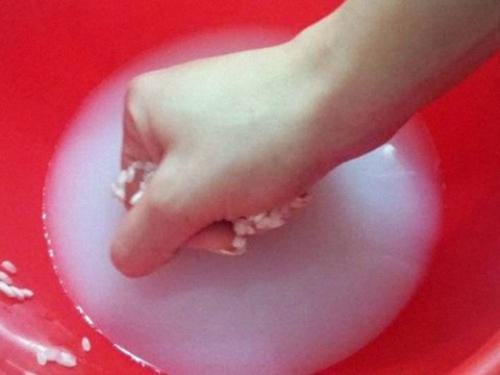 Japanese women have been taking the advantage of rice usage as cosmetics for many centuries. The centuries of their beauty is in a simple gift of nature. 
Rice is an amazing source of linoleic acid and squalene - a strong antioxidant that stimulates the collagen production. The last one slows the formation of wrinkles on the skin and protects it from the sun. 
Moreover, rice is rich in vitamin E and gamma orizanol that is famous for its capacity to protect heart and to decrease cholesterol level in blood. 
Unfortunately, but for the Japanese, the majority of people don't know about these factors. Rice really makes wonders when speaking about rejuvenation. 
We suggest you to make this super-easy facial mask that will improve your face skin and smooth the wrinkles. 
You'll need:
3 teaspoons of rice;
1 teaspoon of milk;
1 teaspoon of honey.
How to make: 
Boil and filter the rice. Don't throw away the water after it. Add a tablespoon of warm milk and a tablespoon of honey. 
Apply the ready mask on your clean and dry skin. Leave it until it's dry. Wash off with water from the rice that you kept before. 
Rice water has strong antioxidant qualities. It moisturizes your skin and stimulates circulation of blood. It also help to remove pigment spots and removes inflammations on your skin. You can also use it before you're going to sunbathe: it'll moisturize your skin and protect from new wrinkles. 
To get the best resuls it's advisable to apply this mask at least once a week. Repeat this procedure for several times - and you will look 10 years younger.