I've got a deep, dark secret to share with you. This coming fall, when the world will be watching the runways for the latest trends, heading back to school with shiny new lunch boxes and enjoying the gently falling leaves… I'll be doing the same while counting down the remaining days of my twenties; this fall I'm turning (gasp!) 30.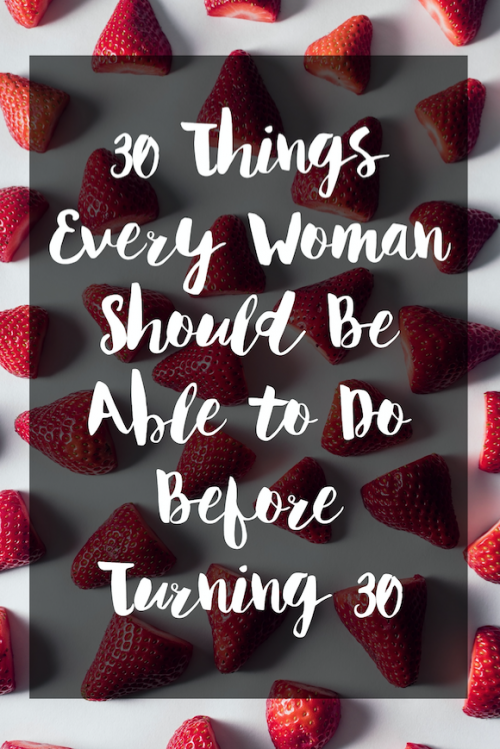 I've seen many, many lists of things that people should accomplish, do, or aspire to do by the time they hit the big 3-0, but I failed to find one that was applicable to me. There were lists of bars I should have gone to, men I should have dated, clothing trends I should have tried and even one with nostalgia from my youth I should remember given my age. But there was no list of things that a 30 year old should be reasonably able to accomplish as a bona fide grown-up, and especially not as a refined-in-training 30 year old. So, without further ado, I present my list of the 30 things every RefinedSide woman should do/have done/learned/tried by the time they hit 30.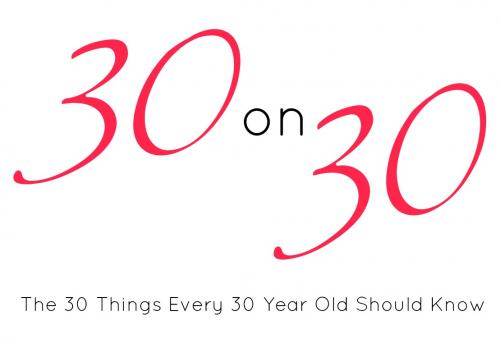 You should have moved out of your parents' house. Even if it means you are "just" living with a roommate and paying rent, living separately from the people who birthed and raised you is a critical step in growing up. I'm not saying you need to go out and buy a home (unless you are able, in which case fantastic) but having some independence by the time you're entering your third decade is a requirement.
Speaking of parents, you should no longer be requiring money from them to survive. If your parents send you money which in any way pays for food, housing, clothing, shelter, bill payments, children, household help, alcohol or travel you are officially a mooch. A big 30 year old mooch.
You should at the very least a credit card in your own name and a credit history which shows that you are a human being capable of managing money. Ideally, you should never carry a balance on these credit cards and only spend what you can every month before paying it off- but I'm also realistic that this isn't always plausible. The key is being responsible with it and, again, have a plan on how you're going to pay it off if you owe a balance.
Showing off your money skills, you should have started and be making regular contributions to a Retirement Savings Account / 401 (K). You should at least have an account set-up, be making monthly contributions and have an idea of how much money you're going to need to retire combined with an idea of how you're going to get there.
You should be well into a career plan which makes you happy. Life is too short to not be passionate about the thing you do for the 1/3 of your day. Your twenties are for trying out jobs, testing new adventures and figuring out exactly what that career plan looks like. Your thirties for really kicking it into gear.
Besides a career that makes you happy, you should be well on your way to building a life that makes you happy. Be that a husband, 2.5 kids and a dog or a passport overflowing with visa stamps – or all of the above, you overachiever you – you should know within yourself what makes you happy and be well on your way to working towards that goal.
There are all kinds of people that can come and go in your life, and you should have at least one friend close enough that you can call in the middle of the night for an emergency and who will come rescue you. Added bonus points if you can text message a picture of your eyebrows with the quotation "Do I need to pluck?"
Now that we're onto eyebrows, you really should have those under control. A groomed eyebrow is a must. You should have figured out how to tweeze/pluck/wax/thread them into submission yourself, or know a professional near you who can whip them into submission.
You should know how to apply enough makeup in under 5 minutes in order to leave the house looking polished/fresh/natural/rested. If you're not sure how to do this, visit a local Department store or your local Sephora/Ulta and request to sit down with a makeup artist to learn how. This is a great, free, way to try out new products and get tips on achieving your five minute face.
On the makeup topic, you should have figured out by now that some products work on your skin while others don't. You should have figured out by now that maybe a certain foundation makes you break out or that brown eyeliner is more flattering than a black one on you. If you don't know these things, visit the above makeup artist for a longer visit or book yourself a makeup artist for a couple of hours to pick their brain
You should never leave the house without sunscreen. Period.
Since we're now entering the years where collagen starts to shut down, you're going to start requiring some help to keep yourself looking as radiant as you do today. You should have invested some time and money into finding an anti-wrinkle cream that works on your skin and now be religiously sticking to it. It also wouldn't hurt to start building a relationship with a dermatologist now.
People have strong associations with scent, so having found your signature scent is of utmost importance. I spent years testing out bottles of perfume and never finding one I identified with until one day I smelled the perfume of my dreams. It was sophisticated, reminded me of the Mediterranean and most importantly, made me feel like a million bucks when I wore it. Still does.
You should own one great fitting pair of jeans which you can pull on with a pair of heels for a night out on the town. Not the pair you schlep around in on the weekend or even the pair you would wear to work on casual Fridays. This pair of jeans should flatter your rear, lengthen your legs and smooth your love handles. Think I'm crazy that a pair of jeans could do all this? You're then not buying the right jeans.
Always have a little black dress in your closet ready to go for a big night out, date, meeting, introduction or any other event that you need to feel spectacular in. Find a dress that is flattering to your body, in a classic, timeless cut and learn to accessorize it up or down depending on the situation.
Speaking of good fitting garments, you should have been professionally fitted for a bra or, failing that, at the very least aware of how one should fit, flatter and feel. I believe it was Oprah who said something like 85% of women don't wear the right size bra. Don't' be an Oprah statistic.
Your wardrobe should reflect the fact that you're a sophisticated woman. Investing the time to go through things one by one and being honest about their fit, usage and message is crucial to make sure you are portraying the best version of yourself to the world. If you don't have any friends who will tell you that your pink sequined halter top makes you look like a wannabe 16 year old pop star, there are all kinds of stylists available in every city and even online.
You should know what your body shape is and have come to terms with it by the time you're 30. I spent the first half of my twenties trying to look like a waifish supermodel, the latter half depressed I couldn't and am only now realizing that with my boobs and curves, I am, shape-wise, a Salma Hayek rather than a Kate Middleton. And I'm OK with that.
You should be making regular visits to your family doctor, optometrist, dentist and any other specialties your situation should require. Laziness is no excuse to not take the time out of your hectic schedule to make your health a priority.
Take it from someone who recently broke their ankle – the ability to get out and go for a walk, jog or run is something that most people take for granted. Don't be one of them. Find an exercise regimen of something you enjoy and take advice from Nike and just do it.
If you drink, you should know when you've reached the limit and stop before delving into hangover territory- or even worse, drunk behaviours.
You should, however, know something about wine. Even if you don't drink it, wine is a cultural mainstay and is dealt with in business, personal celebrations and all kinds of other social situations. You should know at least one good bottle of wine to gift to others, the basic differences between red and white and that you can send any unwanted bottles to the RefinedSide team.
Drinking and driving is never OK and never will be. If you're drinking, don't drive. Period.
While something most people have in their late teens, a Driver's licence is something everyone should have, especially by age 30. Even if you don't own a car or live in a city where driving is not the norm, there are situations, such as a friend having had too much to drink and needing someone to drive him home, that just require one.
Driving is one thing, but by age 30 you should have travelled to another country at least once, ideally another continent. Travelling might be expensive, yes, but an absolutely essential way of learning to look at the world from a different perspective.
I firmly believe that by age 30, every woman should have a real diamond. It doesn't matter if the diamond is .00001 Carats on a tiny ring you bought yourself, a passed down heirloom from grandma or a massive engagement ring you were fortunate enough to receive from a lover. Diamonds are a girl's best friend.
Come to realize that any relationship that you are in that is forced– an outgrown friendship, a sibling you've never gotten along with, a romantic relationship without Carrie Bradshaw's famous zsazsazu – is not worth being in. I have very limited amounts of time outside of work and sleep and I am choosy with whom I spend it. I'm not even remotely apologetic for it and neither should you be.
On that note, you should accept the things you love, in my case above Sex and the City episodes, and not be apologetic for those either.
Knowing your likes and dislikes is an always evolving process, but having found your passions in life is something you should have found – or be actively seeking- by now. As Julia Child said: "… Find something you are passionate about and remain madly passionate about it"
Perhaps the most general on the list, but most important, is that by age 30 you should have figured out what it means to be you, accepted you for all your flaws and truly come to a place where you can, cliché aside, love yourself.
As we get closer to the big 3-0 day (October is as detailed as I will get), I'll be sharing my Thirties Bucket list. I made one when I was entering my twenties of about 10 things I wanted to accomplish personally and professionally. Looking back on it now, I'm incredibly proud of myself and my accomplishments and am only missing one thing off my 15 item list- which is, I'm happy to report, totally achievable in the 5-6 months leading up to the end of my twenties.