I know this week is Thanksgiving and I should be thinking about cornucopias and turkeys and dinner placements, but since I am not hosting, I want to show you another "holiday gifting" idea that is on my menu.  The Christmas Tree Advent Calendar is a great Thanksgiving Day host gift, especially for someone with kids or grandkids.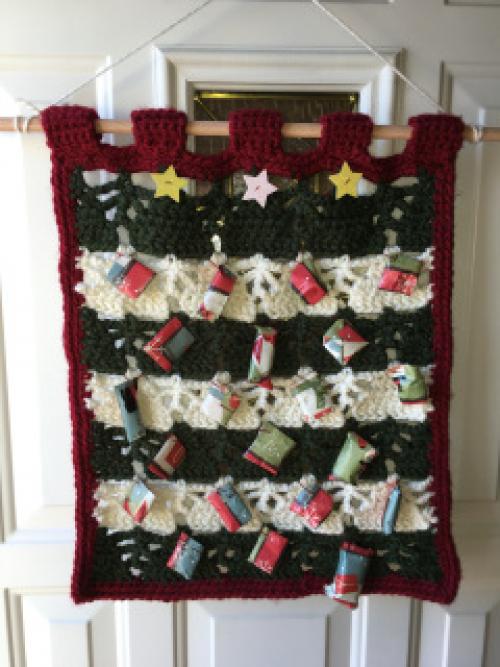 I originally wanted to make a holiday wall hanging, a more sophisticated yarn bomb for my wall.  But, when I finished with the piece, it looked like something my grandma might have given us in 1982.  Sophistication was not a word I would use to describe my piece, quirky, maybe, old-school, definitely.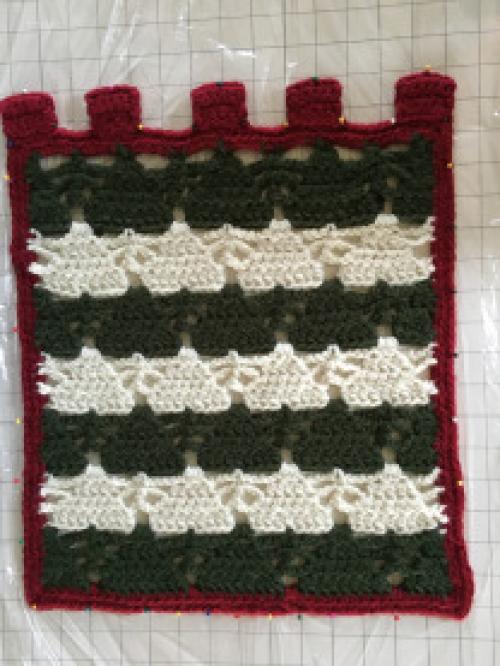 Then, at a lunch together, my mom gave me the idea to turn my simple wall hanging into an advent calendar.  As a kid, I always loved opening the cardboard windows to get the "surprise" milk chocolate that hid inside.  My almost four year-old, loves surprises and chocolate, so with the suggestion from Nana, my quirky, old-school wall hanging became a retro-styled advent calendar.
It was almost too simple.  I had, without planning, created twenty-four pine trees on the tapestry, all I had to do was add pockets and numbers and a wooden dowel and it was complete.  This project was fairly simple, I would put it at intermediate, just because of the color changes and the stitch counts, but overall it can be completed in a weekend.  I hope you like it!
Materials:
Bulky (#5) Yarn, one ball of each color
Hook, K – 10.5, 6.5mm
The main pattern is called the Pine Trees Stitch and can be found here:
To create the boarder, I single crocheted around the piece, with three single crochets in each corner, then repeated the round a second time crocheting in the back loop only.  This created a nice ridged boarder.
For each dowel loop, I made ten rows of five.  I then folded them in half and sewed them to the top.
Getting it from a simple wall hanging to an advent calendar was tricky. I first thought to make pockets, but I am not a good sewer, and frankly I wanted to show off the pine trees.  So, I decided to wrap candy, three M&M's in one, a Tootsie Roll in another, any extra candy we have left over from Halloween.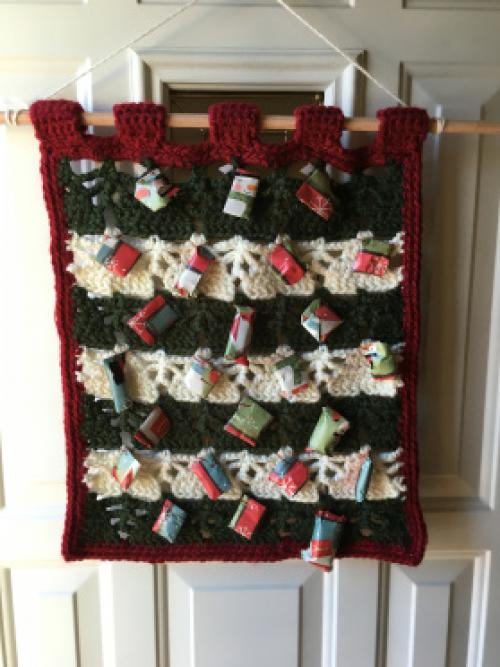 It was pretty easy, I packaged tiny "presents" in some Christmas wrapping and "sewed" them onto the top of the trees.  To make  it a bit more decorative, I tied stars to the other side of the candy.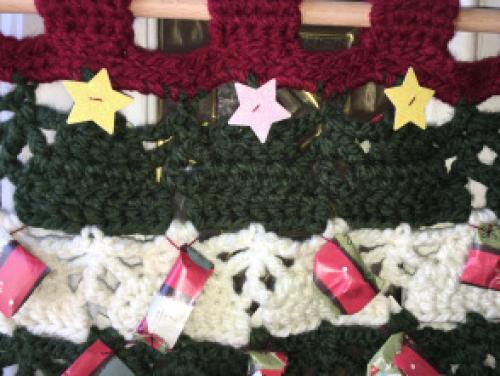 Thus, when the candy is ripped off to be opened and eaten, turn the yarn and you have stars topping the trees.
The finished piece is fun, cute, and useful.  My daughter keeps looking at it asking when she can open her treats.  I feel bad that she has to look at this for another week!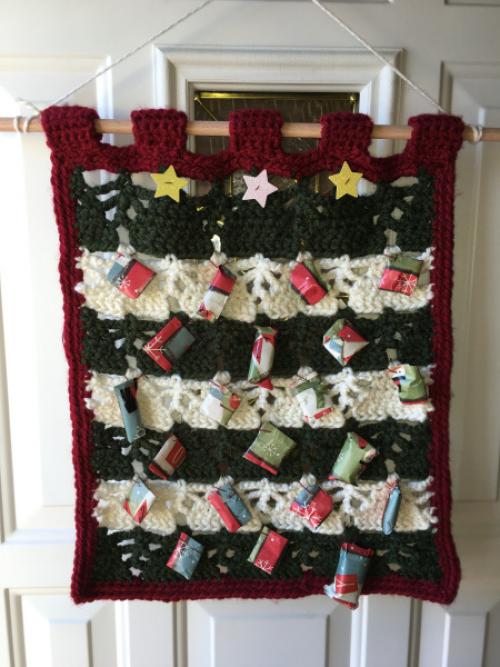 Happy Crocheting!