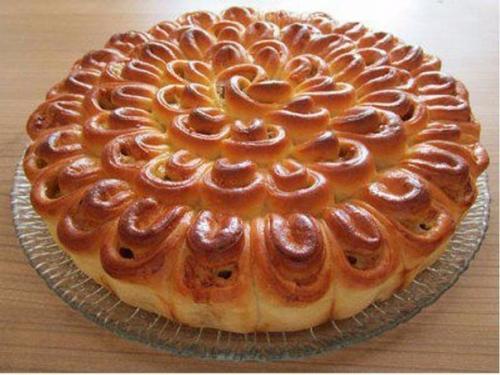 Ingredients:
500g ground beef or pork
1 onion
1 clove of garlic
100ml water
1 tsp chicken stock cube
14g cheese
30g butter
salt, red and black pepper to taste.
For pastry:
125ml milk
125ml kefir
1 package dry yeast (7g)
1 tbs sugar
1 tsp salt
1 egg
500g flour
6 tbs vegetable oil.
Method:
Step 1. Mix yeast, milk and sugar and leave for about 15-20 minutes.
Step 2. Mix milk, kefir, sugar, salt, egg and vegetable oil. Stir thoroughly, add yeast, sifted flour and make a soft pastry. Cover a bowl with the pastry and leave in a warm place for about 1 hour. Then knead the pastry a little bit and divide it into 2 equal parts.
Step 3. Put one part away and cover with a kitchen towel.
Step 4. Roll the 2nd part into a 3-4mm sheet (powder a table with flour if necessary).
Step 5. Press out rounds from a pastry with the help of a cup (I had rounds 7.5cm in diameter). Gather the rest of the pastry together and knead again. Roll and press out rounds. Cover with a cling wrap not to dry them up.
Step 6. Fill each rounds with 1 tsp ground beef or pork, salt and a pinch of cheese. Fold them up in two. Then again in two. Graft the edges.
Step 7.  Oil the pan, then cover it with greased parchment paper (in the end you can remove a cake from the pan).
Step 8. Put the rounds in a springform pan 28cm in diameter tight to each other.
Step 9. When all the rounds are left, take the 2nd half of the pastry and repeat the same.
Step 10. For a middle of the cake take 3 halves of rounds and fill in with ground beef. Overlap the halves. Roll and put in the middle of a cake. Cover the pan with a cling wrap. Leave for 20-30 minutes.
Step 11. Drizzle with whisked mixture (1 egg yolk and 1 cup of milk).
Step 12. Bake in a preheat oven at 180-200C for about 35-40 minutes.
Step 13. Some minutes before removing lower the temperature to 175C.
Step 14. Grease the ready cake with butter (30g) and cover with a towel for 15 minutes. Enjoy!