Men don't differ these mushrooms from real ones, women are at a loss - how is it made?
This dish can be hardly distinguished from the fried mushrooms!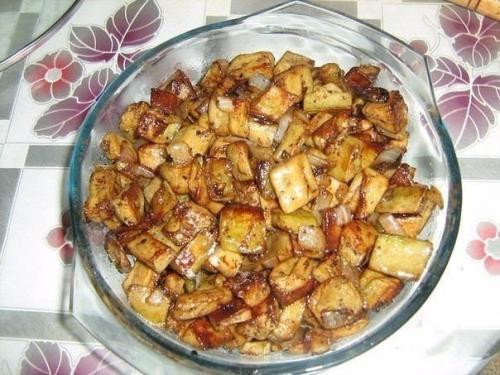 Ingredients:
- 3-4 eggplants;
- 2 medium-sized onions;
- 2 big or small eggs;
- 1 mushroom cube;
- vegetable oil for frying;
- ground black pepper;
- no salt!

Method:
1. Peel the eggplants and cut into the 2 cm long cubes.
2. Whisk eggs until foam. Add whisked eggs to the eggplants. Stir thoroughly. Cover not to dry up. During the hour stir our future mushrooms 56 times. As a result, there will remain no eggs even at the bottom of the bowl. 
3. Chop the mushroom broth cube. Cut the onion into the cubes. Firstly, fry eggplants on a vegetable oil a little bit. Then add the onion to the pan. Stirring constantly, fry for about 3 minutes.
4. Pour out ground mushroom cube and bring to readiness. Personally I add ground black pepper for taste. In case a hot dish would seem too salty for you, let it cool and it would be perfect. Enjoy!