1) Salmon baked in foil
Time: 50 minutes.
Yield: 2-4 servings. 
Level: 3 of 5. 
Ingredients:
500 g salmon
1 onion
2 cloves of garlic
1 bundle of dill
100 g vegetable oil.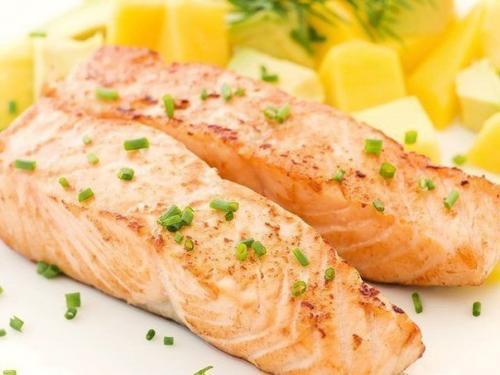 Method:
1. Take a good piece of salmon without head and tail and remove the skin from salmon. Attention! Only in case a salmon is middle-sized you can take it entirely. 
2. Cut the peeled onion, garlic and dill, mix with salt and pepper. 
3. Grease a large pieсe of foil with vegetable oil. Put the fish on a foil and grease it too. Season the salmon with the mixture, put it on the foil and roll it (you can make a double layer because a foil balloons in the geat oven). 
4. Bake a salmon for 20-25 minutes until it's ready. 
2) Salmon with mushroom sauce
1 portion = 270 kcal 
Ingredients:
200 g salmon fillet
50 g canned champignons (small)
1 small onion 
3 tbs natural yogurt
some dill and parsley
1/2 tsp karri
1/2 olive oil
spices to taste.
Method:
Salt and pepper the salmon, then fry on a vegetable oil for 2-3 minutes at each side. Cut the onion, fry on a vegetable oil, add whole champignons, pour with yogurt and add karri. Add salt and pepper to taste. Stir the sauce thoroughly and warm a liitle bit. Lay out the salmon on the plate, season and sprinkle with greens. Enjoy!