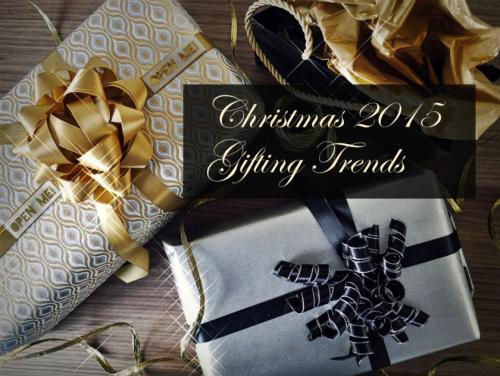 It's this time of the year again when we start thinking about Christmas gifts. Some of us will be well-organised and have a plan in place (I've seen spreadsheets with names and budgets!) but most are just beginning to browse favourite blogs and websites in search of inspiration.
In this post I'll attempt to give you some top line tips and ideas that might inspire you.
Let's talk colours first
First of all, let's figure out the colour palette for this Christmas. Not surprisingly, gifting fashion is closely linked to "real" fashion. The most iconic London trend setters – Claridges hotel and Selfridges department store – are heavily featuring metallics in their festive interiors, with strategically placed black accents to bring depth and sparkle to silver and golden tones.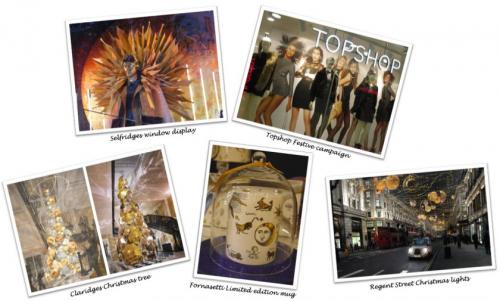 So there you have it – the most fashionable gifts will be made of metal (or at least gift-wrapped in monochrome metallic paper) with optional ornaments and dark sequins.
Key themes for 2015
I am a huge advocate of personalised gifts where you figure out exactly what a person might want, but as we are talking trends here, I've identified a few that you can use as a rough guide.
Subscription-mania
This year has seen the rise of subscription services, so we are not limited to just a handful of sample boxes anymore. Opportunities to customise are practically limitless, and you can find a subscription for pretty much every hobby and interest.
The main benefit of a subscription over a one-off gift is that people will think about you every time they get a new monthly box – that's what I call value for money.
Here are just a few of my favourites (it is UK only, so apologies to international readers, but I'm almost certain there be a local alternative):
For chocolate lovers, Hobbs bakery offers a monthly brownie subscription, so a tray of deliciously indulgent brownies will arrive straight to your door with zero effort.
A favourite among bloggers is the Bloom & Wild flower subscription where you get fantastic seasonal bouquets through your letter box. Just imagine the excitement of getting fresh flowers on a gloomy February day!
For party lovers there is a personalised cocktailsubscription, where each month you're sent a selection of alcoholic drinks with recipes, plus tasty snacks for a perfect night in.
Finding time for 'me time'
In the past couple of years, we've been offered many great ways to unwind, from mindful meditation to energetic tap dancing. The problem now is finding the time to do all these undoubtedly amazing activities. With long working hours and other commitments, finding time for 'me time' is becoming an issue for many.
That's where professional services can be of help. Think cleaners, accountants and planners, who are equipped with tools to free up some time for activities we really want to do. To show that you care about quality family time, why not give your mother a thorough house clean while you take her out for a long Sunday brunch?
Beauty experiences
One of the best gifts I received this year was a blow dry session at London's leading hairdresser before an important evening event. We all know that hair can make or break an entire look, so having "the best hair day" can make a huge difference to our confidence.
If you have a friend who is into beauty, I can't think of a better gift than a professional blow dry. There are competitively-priced chains specialising in blow dry services like Hershesons and Blow, where skilled professionals can transform even the straightest hair into voluminous waves in under 30 minutes (that's what happened to me!).
I would apply this rule to all other popular beauty gifts. Instead of hair straighteners, get her a salon blow dry, instead of a Chanel nail varnish – a proper manicure (costs the same!) and instead of an expensive face cream – a session with a beautician. I totally get that it might not be the most practical approach, but experiences are priceless.
Socially-responsible gifts
It is the first year that I've been asked about ethical gifts by many friends of mine. I guess the recent dramatic events around the world have made people more aware about various global issues, so they want to support good causes. If you have friends who see Christmas as an opportunity to make this world a better place to live, the best gift you can give them is a cheque to their favourite charity or a donation to your local charity shop.
If you don't want to get involved in charity work, a simple solution could be buying from a socially-responsible website, like The Big Issue Shop or Run Native. These shops offer a selection of things from recycled materials or with profits going towards projects in developing countries.
Still struggling?
Don't worry, we've all been there. Check out my blog Gifting Basics for more ideas. You can also contact me for free gifting advice or to simply say hello.