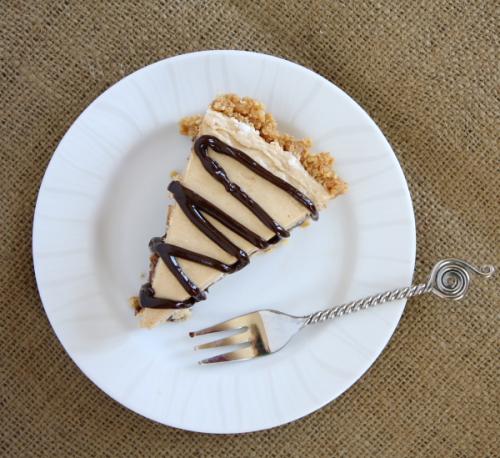 A no-bake pie to make and enjoy with your family. This pie is gluten-free adaptable- please see tips below the recipe.
Ingredients:
24 Nutter Butter cookies, crushed into crumbs
5 Tablespoons butter, melted
1 cup hot fudge
8 ounces cream cheese, at room temperature
3/4 cup powdered sugar, sifted
1 cup creamy peanut butter (not the natural kind)
1 Tablespoon vanilla extract
8 ounces Cool Whip, defrosted
additional hot fudge for drizzling, optional
Directions:
1. In a medium bowl, combine cookie crumbs and butter. Press the mixture into a pie plate. Drizzle the hot fudge on top and smooth it out. Place in the freezer while you're preparing the filling.
2. In a large bowl, use an electric mixer to mix cream cheese and powdered sugar. Mix in peanut butter and vanilla; beat until smooth. Beat in about 1 cup of the Cool Whip. Set the beaters aside and use a rubber spatula to fold in the rest of the Cool Whip. Keep folding until the mixture is well combined.
3. Spoon the peanut butter filling into the frozen pie crust, smooth the top, and place back into the freezer. Freeze for at least 3 hours, or until set enough to slice easily. Drizzle additional hot fudge on individual slices, if desired.
Tips:
*Why not natural peanut butter? It will not mix in well and make this the creamy pie that it's meant to be.
*If allergic to peanuts, try using Oreos for the crust and a creamy version of almond butter instead (like the Barney's brand)
*If preparing this recipe as GLUTEN-FREE, just use some gluten free cookies in place of the Nutter Butters (like GF Oreos), use GF hot fudge, GF peanut butter and GF whipped topping.