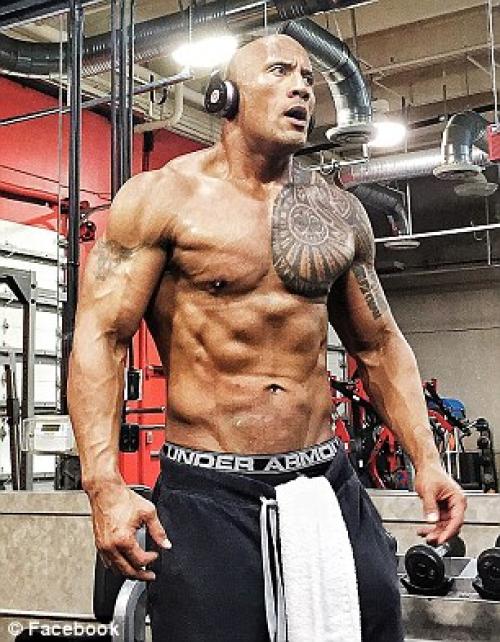 Want To Know What Dwayne Johnson Eats Everyday To Get Stacked?
If you want to look like The Rock, then you're going to have to eat like the Rock. Which means eating 10 pounds of food every single day over seven meals, beginning at 4 in the morning! We knew there had to be something more behind his monster physique besides just working out.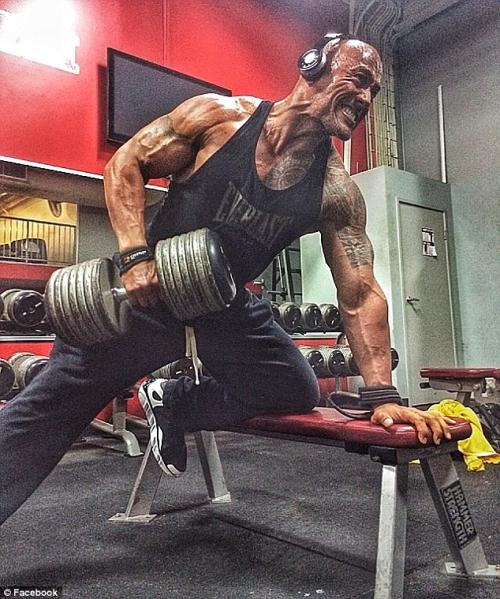 Read the article below to see what the Rock eats on a daily basis
He is 6ft 4in, 270-pounds, and has a physique befitting his recent role as Hercules.
But for Dwayne 'The Rock' Johnson, his action-hero body doesn't just come with a grueling workout routine.
The Hollywood star sticks to a strict daily diet plan – involving seven meals, 5,165 calories and 10 pounds of food.
The 43-year-old revealed his mammoth regime, which usually begins at 4am, to Muscle and Fitness magazine, to the amazement of his fans.
In between his dishes – which consist of a range meats, eggs, rice and vegetables – he also finds time to work out.
Walt Hickey from the website FiveThirtyEight, it adds up to 2.3 pounds of cod and 12 eggs, plus a hefty portion of steak and chicken.
Johnson eats roughly 1,000 calories worth of cod each day alone and spends around $1,400 a year on the fish, if he buys in bulk.
A man's suggested daily intake for all foods is roughly 2,500.
Sean Evans, who works for Complex magazine, tried the mountainous diet out for himself.
For one day he managed six of the seven meals, interspersed with gym sessions.
It wasn't easy for Evans, who admitted early on that he hated fish.
 MEALS OF A CHAMPION: THE ROCK'S DAILY DIET
Meal 1 – 10 oz cod, 2 whole eggs, 2 cups oatmeal
Meal 2 – 8 oz cod, 12 oz sweet potato, 1 cup veggies
Meal 3 – 8 oz chicken, 2 cups white rice, 1 cup veggies
Meal 4 – 8 oz cod, 2 cups rice, 1 cup veggies, 1 tbsp fish oil
Meal 5 – 8 oz steak, 12 oz baked potato, spinach salad
Meal 6 – 10 oz cod, 2 cups rice, salad
Meal 7 – 30 grams casein protein, 10 egg-white omelet, 1 cup veggies (onions, peppers, mushrooms), 1 tbsp omega-3 fish oil
Source: Muscle and Fitness  
 In a feature for the magazine, he said: 'Ultimately, I failed to complete The Rock Challenge, but quite frankly it was fool's errand from the jump.
'I still wear size 30 jeans like I'm a sophomore in high school. Dwayne Johnson, on the other hand, weighs close to 300 pounds and has a body that burns fuel like a furnace.
'Yet, for whatever reason (probably to make me puke on Internet TV), we didn't compromise the diet a single calorie.
'I walk away with a newfound respect for Johnson. He's an athlete-turned-professional wrestling icon-turned box office draw, and, at 43 years old, still wakes up at 4 a.m. so he can mainline sweet potatoes and flip monster truck tires.
'That sort of career path doesn't happen unless you have something freakish driving you.'