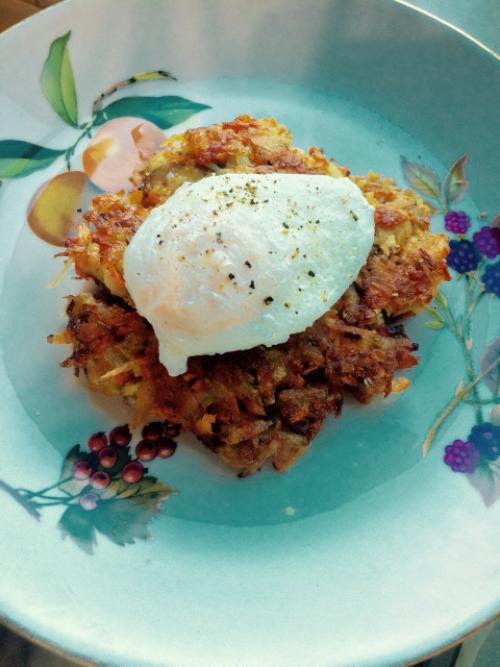 A brunch for an accidentally sore head. I have recently, and most unexpectedly, started craving "healthy" hangover food. As someone who spent the last three years testing how many hangover dishes you can improve with bacon (answer: all), no one was more surprised than me. But, I didn't want to do anything strenuous and I wanted it to have vegetables. And so, the root vegetable rosti was born. You can use any root vegetables that you have lying around, and you can add grated onion, garlic, herbs or chilli if you wanted extra flavour.
I had this with a poached egg, but it would be just as nice with a dollop of plain yoghurt, or even some bacon or chorizo.
Ingredients
75g raw potato
75g raw carrot
one beaten egg
salt and pepper
one tbsp oil
splash of white wine vinegar
one whole egg
a knob of butter
Method
Start by coarsely grating the carrot and potato. Gather the grated vegetables into a clean J cloth or tea towel, and squeeze all the excess moisture out.
Put the tablespoon of oil in a pan on a medium high heat. While the pan is heating up, mix the grated veg with the beaten egg and season really well. Now would also be the time to mix in any herbs or chilli if you're using it.
Take the mixture in your hands and squash together into a patty shape, squeezing out any excess moisture as you go. Slide into the hot pan, flatten gently with the back of a spatula, and then leave it alone so that the base gets crispy.
To poach the egg, bring a pan of water to a simmer and add the vinegar. Crack the egg into a teacup. With a spoon, swirl the water to create a whirlpool in the middle, and then pour the egg into it. The water should push the white around the yolk, but coax it gently with a spoon so that all the yolk is covered. Leave to poach for four minutes for a runny yolk.
When your egg is in the water, carefully flip the rosti over in the pan. Add butter to the pan to melt into the rosti.
When the egg is ready, remove from the pan with a slotted spoon and drain on a piece of kitchen towel. Serve on top of the rosti, and eat immediately with lots of coffee.