This quick and easy way to bake potatoes will have you making baked potatoes at home more often. It's so easy!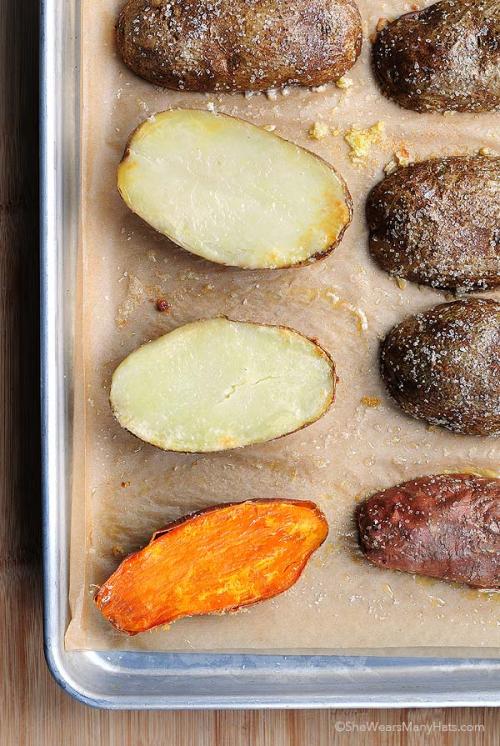 I'm Irish to the core. Well, at least I think I am. If nothing but for my lack of self control when anything potato is involved, I would say I'm totally Irish.
That has to mean something, right?
Potatoes are a staple in our home. We have to moderate our intake and how they're prepared, but a good baked potato is always the perfect standby for us to serve as a side, or as the main star topped with chili, or maybe even something healthy. I've learned a shortcut for cooking baked potatoes quicker, and I have to say, tastier. My friend Cindy, tipped me off to this technique a few years back.
Cindy is also the person that originally spurred me on to begin this site. I didn't really know what a blog was when she suggested I look at starting one of my own. So thank you for that, Cindy! And thank you for showing me how to bake a potato faster too.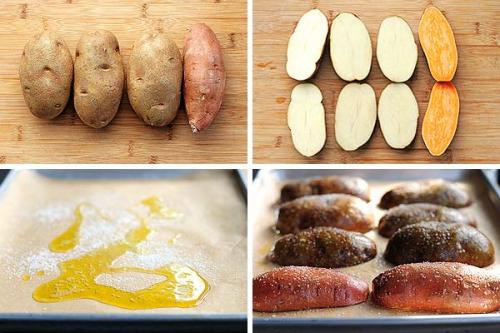 Here's how it works. It couldn't be easier. Begin with washed potatoes. We use sweet potatoes for this too. Sweet potatoes are my husband's favorite. I always toss one in the batch for him. When you've washed, and removed any icky or weird looking parts, cut the potatoes in half length wise. Then pour a little olive oil, and sprinkle a good amount of salt on a parchment lined baking sheet. Coat the cut potato halves with the olive oil and salt, and place them on the baking sheet, cut side down. Just use your hands to coat the potatoes with the oil and salt. It's easier. Plus, olive oil and salt make for an excellent hand scrub. Once they're coated on all sides, sprinkle a little more salt, then bake at 400°F for about 30-40 minutes, depending on your oven. Check with a fork for doneness and enjoy!
See? Isn't that easy?
When potatoes are baked this way they develop a super tasty skin (which I enjoy even more than the flesh), and they're the healthiest part of the potato too. They end up being a cross between a baked potato and twice baked potato without all the scraping and restuffing involved. Super simple. Super quick. And super satisfying.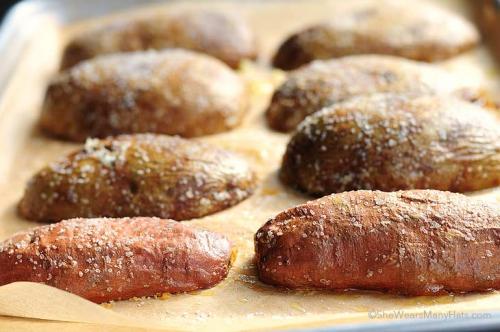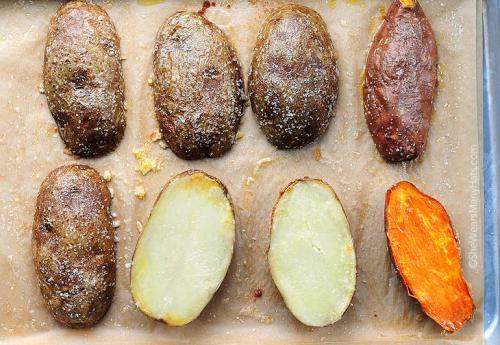 Try it soon and let me know what you think!
Quick Baked Potatoes
A quicker way to bake a potato.
Author: Amy Johnson | She Wears Many Hats
Recipe type: side dish
Ingredients
2-3 tablespoons olive oil
several pinches kosher salt
4 baking potatoes, washed
Instructions
Preheat oven to 400°F, and line a baking sheet with parchment paper. Drizzle lined baking sheet with olive oil and sprinkle with salt.
Cut potatoes in half length wise.
Coat potatoes all sides with olive oil and salt, and place cut side down on lined baking sheet. Sprinkle potatoes with additional salt.
Bake at 400°F for 30-40 minutes until done. Check with fork for doneness.