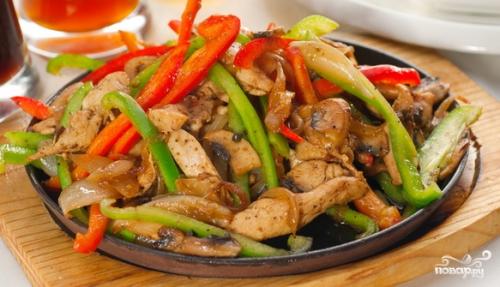 Fricasse is a meat dish cooking in white sauce. We're going to cook a delicious fricasse in sour cream sauce. The meat will be tender and succulent.  
97.51 kkal to 100 g.
Proteins, fats and carbs - 13. 29/3. 27/2. 94.
Ingredients:
500 g of chicken fillet (or turkey)
1-2 onions
1-2 sweet pepper
3-5 cloves of garlic
250 g of sour cream (yun can take it together with kefir in equal parts)
salt and spices to taste. 
Method:
You can cook a sour and garlic sauce and marinate meat with it for a night. 
So, to cook chicken fricassee, wash the meat and cut it into stripes. 
Peel the onion and cut into half-moons. 
Peel the sweet pepper, remove seeds and stems and cut into stripes. 
Peel the garlic and cut it into small pieces. 
Fry onion and pepper on a frying pan for several minutes. 
Add pounded garlic and sour cream to the chicken then stir. 
Remove the chicken fillet with sour cream to the onion and pepper. 
Stir and bring to the boiling point. I added some water as well, but I got enough sauce in the end, so the water isn't necessary. 
Bring fricassee to the boiling point then cover and stew until it's ready.
Stir from time to time. Chicken meat should become tender. Enjoy!