The tastiest starter. The right combination of beef and vegetables makes glad. Everyone who has tasted it likes this dish.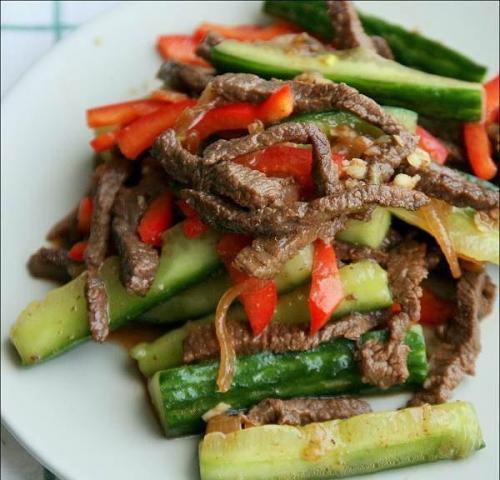 We'll need:
2 thin long cucumbers 
400 g of beef (or less)
1 medium-sized onion
2 cloves of garlic
1 tsp red chili pepper 
1/2 tsp of sugar 
1 tsp ground coriander
2 tbs of 5% vinegar
3-4 tbs soy sauce 
1 tsp salt 
3-4 tbs vegetable oil.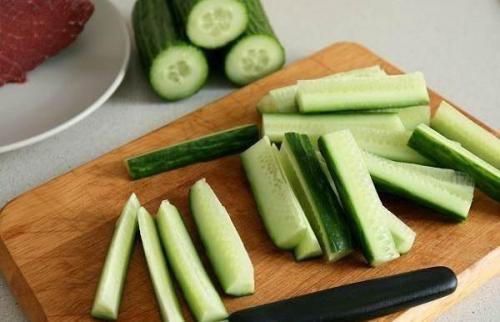 Method: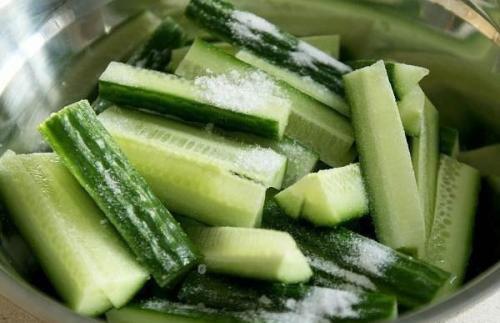 Cut off the cucumbers tips, divide the cucumbers into 2 or 3 parts, then divide every part into 2, and every half into 3-4 slices:
put them into the bowl, powder with salt and rest for 15-20 minutes to let them pick out the juice. 
Cut the beef (not unfrozen completely) into thin stripes. 
Cut the onions into half-moons. 
Press the cucumbers and pour off the juice. Cover them with red chili pepper, coriander, squeezed garlic and sugar. 
Heat the pan with some vegetable oil, don't lessen the heat while cooking. Fry the beef. When the liquid disappears, fry for some time for it to become red, stirring constantly (for 1 minute). Add onion and stir thoroughly. After that add soy sauce, fry for 2 minutes then stir. 
Immediately after that, cover the cucumbers with the beef. 
Leave. Cut the pepper into thin stripes, cover the beef with it and dress with vinegar.
Stir through 5 minutes. You can serve the salad immediately or wait till it gets the room temperature. Enjoy!