Dust that accumulates on the floor and furniture, not only spoils the surface of your house. A lot of harm can be brought by dust ticks - they can provoke asthma, allergy, atopic dermatitis and other diseases. To avoid these unpleasant consequences, we offer several effective ways to cope with a harmful home enemy in a short time.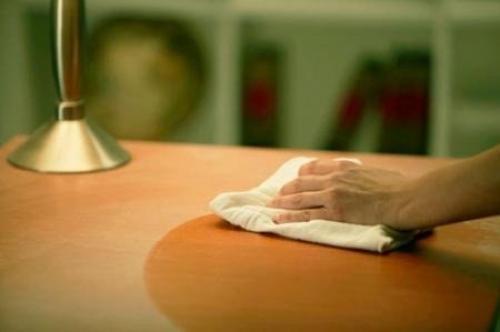 1. Put your plaids, sofa pillows, soft toys and curtains into the washing machine, turning on the drying regime for 15 minutes (it's perfect if your washing machine has a fluff goods drying regime). To kill a dust tick, wash your goods at a temperature not lower than 60x60C if a material is suitable. 
2. Forget about a feather whisk. This accessory looks like very nice, but it's useless while cleaning because it just spreads dust all over the room.
3. A pure paint will remove sticked dust from lamp-shades, wooden chairs, handles and picture frames perfectly. 
Elastic gloves moistened in water, will remove pets' hair from sofas and armchairs. 
The clean white sock will be suitable for cleaning dust from venetian blinds. 
4. Dust has a tendency to settle down, so start from the top surface, making your way down. Vacuum the floors at the end of the cleaning.