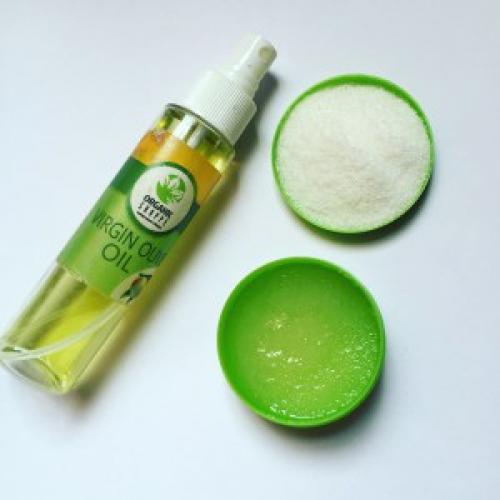 Today, I'm going to be teaching you how to make exfoliating lip scrubs! Lip scrubs are very essential because all the time we get dead skin cells on our lips which turn flaky. They give our lips a very rough feel and sometimes start to loosen and peel off. If you're a girl, I'm sure you know how frustrating it is to have dry lips ruin the smooth application of your lipstick. So yeah, I think we can all agree that lip scrubs are very essential.
To make your own lip scrub you're going to need:
1. Olive oil or coconut oil
2. Honey (optional)
3. Sugar (white or brown)
4. Food coloring or flavoring (if you want to add color or taste to make things more fun.)
However, make sure not to use a dark color because it can stain your lips and you'll just look weird all day.
5. A small container
6. Something to mix with (an eye liner stick will do)
7. A mixing bowl
Let's begin!
How to
Make sure your container is clean and dry. Start with putting a tablespoon of sugar into your bowl. Add a spoon of olive oil. The amount you use depends on the quantity you need. If you are using honey, add just a drop or two. Add a drop or two of your food colouring. Mix it all together. Your mixture should be grainy but the oil should be present for moisturizing. If you feel the texture is not where you need it to be, you are free to add more sugar or oil. You can do a quick test on the back of your hand to know if it's too oily or too dry and grainy. Just take some with your fingertip and rub it in. Make sure you can feel the rough grains on your skin because the sugar grains need to be scrubbed into your lips.
That's it! Your lip scrub is ready. Transfer your mixture to your container. Make sure it has a lid. You can store it in a fridge to be sure that it is properly preserved. If you try this out, make sure to comment so I know.
TO USE- Take some on your finger tip and use to scrub your lips, preferably in circular motions. You can spread your lips then pout to make sure you work it over. Do this for a minute then wash or wipe off. Make sure you apply lip balm or moisturizer immediately after. Do this once or at most twice in a week.
Thanks for reading. Later!