It's not necessary to exhaust yourself with unloading diets and even hunger to achieve the desired body shape. A quick therapy will be enough for your body. It'll cleanse your bowels and return the fond weight. 
For this purpose, you should include a detox salad in your ration. You can eat such salads all day long or as a substitute to dinner or supper. It'll be perfect to eat such salad every week.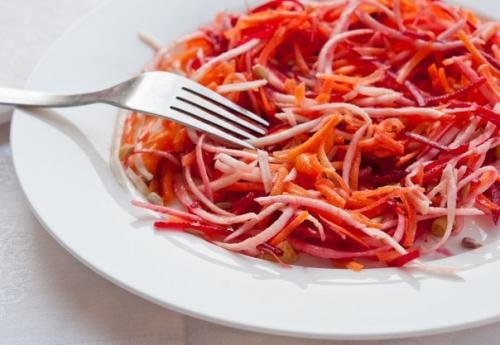 The main ingredients are cabbage, carrot and beetroot. 
Recipe 1.
Ingredients: cabbage, carrot, prunes, lemon juice, oil. 
Method: grate cabbage, beetroot and carrot, using the large holes of a grator. Take the raw vegetables. Mash them thoroughly until juice. Add prunes, that is soaked and cut into small pieces beforehand. Dress the salad with lemon juice and add some vegetable oil. 
Recipe 2. 
Ingredients: beetroot, carrot, apple, vegetable oil, lemon juice. 
Method: grate beetroot, carrot and apple. Mash all the ingredients with hands and dress the salad with vegetable oil and lemon juice. 
Recipe 3. 
Ingredients: white cabbage, carrot, apple, lemon juice, vegetable juice. 
Method: chop or grate the cabbage, carrot and apple. Sprinkle with lemon juice and add a drop of vegetable oil.