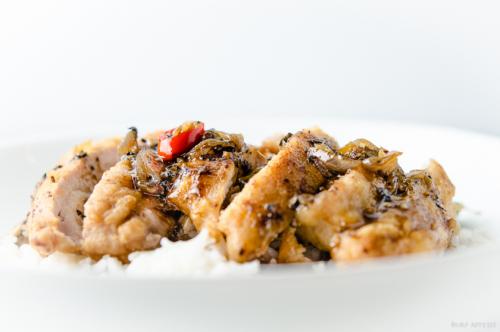 Ingredients:
2 boneless skinless whole chicken thigh fillet, lightly flatten with kitchen mallet
1/2 tbsp soy sauce
1 tsp white pepper
1 tsp sesame oil
1 tbsp corn flour, for dusting
1 tbsp rice flour, for dusting
Vegetable oil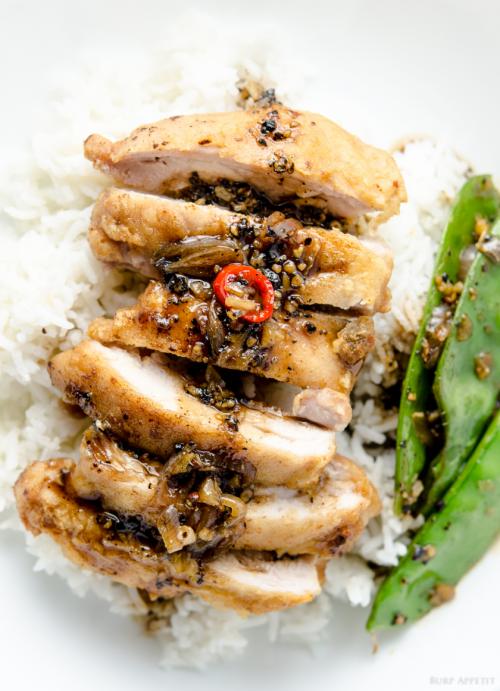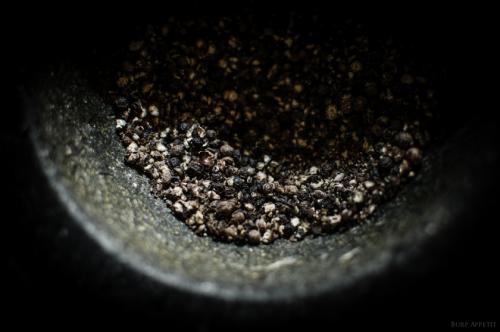 (Black pepper sauce)
2 cloves garlic, chopped
1 thumb size ginger, chopped
2 bird eye chillies, sliced
2 red shallots, sliced
1 tbsp crushed black peppercorn
2 tbsp oyster sauce
1 tbsp soy sauce
1/2 tbsp sugar
1/2 cup chicken stock
6 snow peas, tailed and topped
1 tbsp cornflour, mix with 1/2 tbsp water
Method:
1. Marinade flattened thigh fillets with soy sauce, sesame oil and white pepper for 30 minutes.
2. Chop and slice ingredients for the sauce and set aside.  In a clean bowl, mix the black peppercorn, oyster sauce, soy sauce, sugar and chicken stock.
3. 15 minutes before cooking, bring the marinated chicken to room temperature.  Heat a wok with sufficient vegetable oil for deep frying.  Mix corn flour and rice flour in a bowl and lightly coat the chicken.
4. To determine if the oil is hot enough, I use the chopstick method.  Stick a chopstick into the oil and when the bottom of the chopstick bubbles vigorously, the oil is ready for frying.  Drench off excess flour from the chicken and gently slide into the oil.  Fry for about 4 minutes until both sides have turned golden, crispy and cooked through.  Remove and drain on paper towels.
5. In the same wok, remove the rest of the oil until 1 tbsp oil left.  Heat up on medium heat.  Sauté garlic, chilli and shallot until fragrant for about 20 seconds.  Add the earlier mixed sauce and bring it to a simmer.  Taste and adjust seasoning.  Add snow peas and cook for another 20 seconds.  Thicken the sauce with cornflour mixture.  Continue to stir until the sauce has thickened.
6. Slice the chicken and place them on top of warm steamed rice.  Pour the black pepper sauce over the chicken.  Serve immediately.
Enjoy!