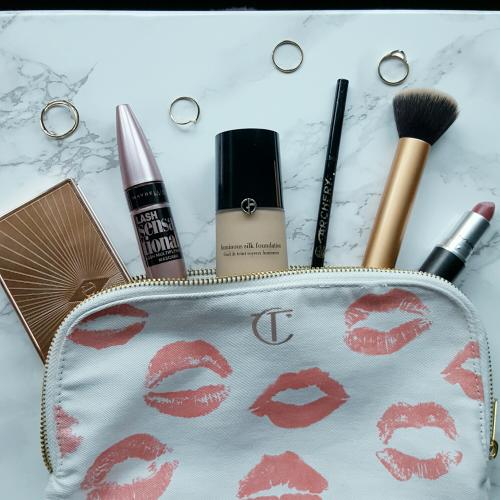 So you've seen my lazy face make up, the make up that's quick to apply when I'm not looking to impress. Now I'm going to talk about the make up I'll wear when I'm going out or maybe want to put more effort in to look a little more dolled up.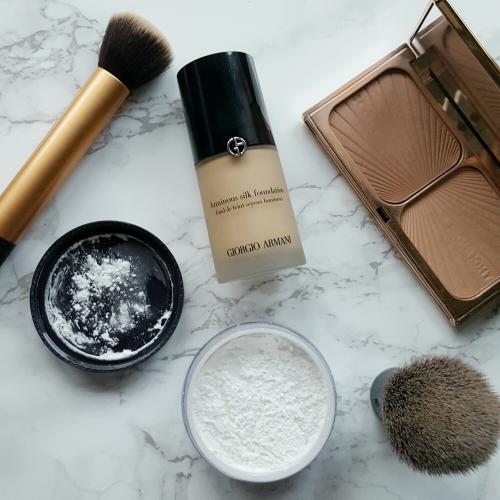 Starting with the base I'll apply the Giorgio Armani Luminous Silk Foundation. This is a medium coverage with a dewy/satin finish leaving your skin glowing! It has no SPF which is great for pictures as you won't get a white face with the flash. I'll then go in with my By Terry Hyaluronic Powder (review here) to set my foundation in place. I'll focus this mainly on my chin and forehead. I'll then contour my face with the Charlotte Tilbury Filmstar Bronze and Glow palette and finish up by highlighting the tops of my cheekbones. I'm obsessed with the glowy look at the moment, i think it looks amazing for an evening look!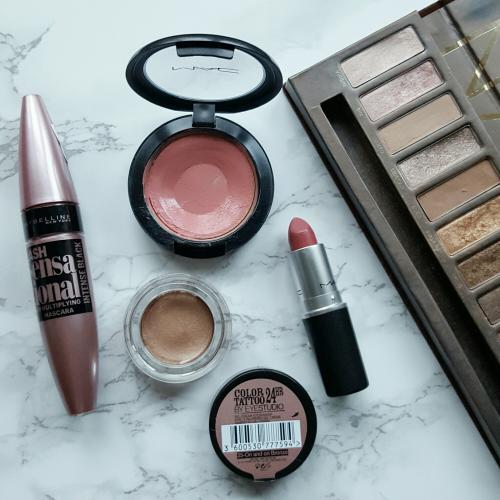 Now this is where it gets interesting where I add some colour to my face. I'll start by brushing out and filling in my brows using the Soap & Glory Brow Archery Pencil. I find my blusher looks a little more natural and healthy if I use a cream blush so I'll apply my Mac blush in Lady Blush with my fingers for a gorgeous natural pink glow. To start with my eye make up I'll start by using my Mabelline Colour Tattoo in On and on Bronze as the main colour base for my eye look. I'll then grab my Urban Decay Naked palette, I'm loving the colours Sin and Toasted at the moment. They're both pink shades, Sin being the lighter colour so I'll apply this to the inner corner of my eye and Toasted is the darker colour so I'll apply this to the outer corner and crease. To finish off my eye look I'll apply my Mabelline Lash Sensational mascara to define my almost non existent lashes. My make up look is then completed by a slick of my Mac Twig lipstick, a satin finish dark pinky nude which is my favourite for an evening look!