Last week ushered in the first day of fall. Don't you just love this time of year? The crisp air outside brings us harvest, football, hayrides, bonfires, sweaters, and soup pots. Soup season has officially started, and there is nothing more comforting than a big ol' pot of soup simmering on the stove, or coming home to a full crock-pot ready and waiting to be devoured.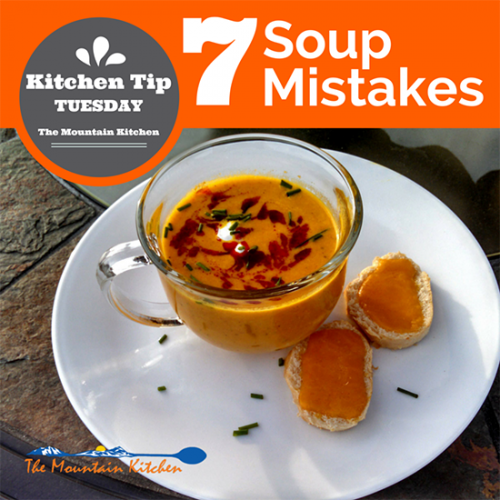 Soup is pretty simple to make. There are no complicated cooking techniques, so there is no excuse for a bad pot of soup. Soup only requires care and consideration. Whether the soup is simple or complicated, thick or chunky, creamy or spicy, here are some mistakes to avoid when making soup this season...
7 Mistakes to Avoid When Making Soup
1. Ignoring the liquid – The best part of a soul-warming soup is the broth, but if you think you can't make a delicious soup without it, you're wrong. It is ok to just use water! You are almost better off using water rather than broth anyway. You may even find you prefer soups made with water. The ingredients of the soup are allowed to stand out and aren't masked by overpowering stocks. Just keep an eye on the soup, and don't let all of the water cook away. Keep in mind that as soup cooks, the broth reduces since some ingredients, such as rice or pasta, tend to soak up the broth. It wouldn't be soup without liquid now would it? Remember, when in doubt, add more water or stock.
2. Boiling instead of simmering – Boiling can cause your meat and vegetables to dry out and become overcooked. A gentle simmer not only cooks the ingredients until they are tender, but also allows the flavors from herbs and spices to infuse with the liquid. The meat and vegetables also absorb some of that seasoned liquid while contributing some of their own flavors as well. As the soup simmers, some of the liquid evaporates allowing the flavors to become more concentrated and intense. So go slow!
3. Too much or not using enough salt – If you add salt at the beginning of the soup-making process, you're almost guaranteed to have salty soup. As I mentioned above, the flavors of the soup will intensify as it cooks down, so you probably won't need much salt anyway. Remember, have patience and wait until the end of the cooking process to season your soup. Nothing is more crucial than seasoning correctly. You can use a recipe as a guideline, but learn to trust your own taste buds!
4. Overcooking the vegetables – Avoid overcooking vegetables by adding them to the soup according to how much time they need to cook. Regardless of what people think, making soup is a gradual process. For more depth of flavor, add the vegetables that need to cook the longest first. Let them cook awhile before adding the vegetables that take the least time to cook.
5. Adding pasta or rice too early – There is nothing worse than rice or pasta that can't even hold its own shape. Folks...NEVER cook your noodles until they disintegrate! Add these ingredients to the soup with just enough time to cook them through according to package directions. Not to mention, if you add them in too early, chances are they will stick to the bottom of the pot, scorch, and ruin your soup!
6. Forgetting about garnishes – Fresh herbs, freshly cracked pepper, a dusting of parmesan cheese, crunchy croutons, or crusty bread add another level of flavor and texture to a good home cooked soup. When I make my Spanish-Style White Bean, Kale and Chorizo Soup the flavors are brought together amazingly and given a little zing by adding a splash of red wine vinegar when it's ready to eat. I also love the paprika brown butter used on the wonderful Roasted Carrot-Apple Soup I made last fall. Other good last-minute garnishes: a dollop of sour cream, chives, lime, or lemon juice.
7. You don't love It – Soup making is a labor of love. If you're going to rush through it, don't even bother making it. Soup takes time, patience and passion. Remember, this meal is supposed to put a smile on everyone's face.
Soup needs your care and consideration. I hope making you aware of these common mistakes will encourage you to make soups that will warm your bones and soothe your soul on a cold day this season.