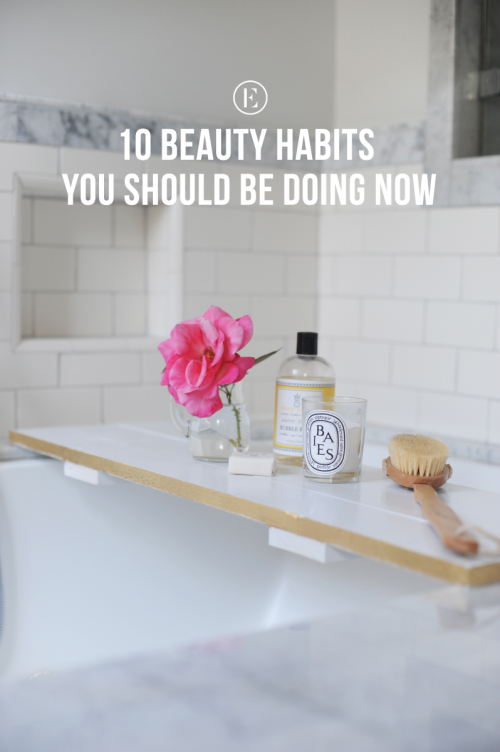 Whether you're in your 20s, 40s, 60s or any age in between, there are certain beauty habits you should be doing every day. We totally get that with working, keeping up with your social life, and personal responsibilities it can be hard to follow all the proper do's and dont's of beauty—and no one expects you to be perfect! However, there are certain little tasks that should become a habit—and we're sharing those today. Some are daily tricks and others are maintenance tasks that you should be doing from time to time, but all should become habits!
1. Remove your makeup (all of it!) 
If you wear makeup and aren't cleansing your face twice before bed, you're probably leaving a good bit of impurities on your skin. Cleanse first to remove makeup and a second time to deep clean the skin. You can use any cleanser for both steps, but if you're able to splurge a little we recommend the Colleen Rothschild Radiant Cleansing Balm for removing makeup. This thick (and delicious smelling!) balm completely dissolves face and eye makeup as soon as you massage it on your face. Next, wet a muslin cloth with warm water and gently place it on the skin to remove the balm. You'll be left with balanced, soft, and radiant skin. Just don't forget to follow up with an additional cleansing! 
2. Exfoliate everywhere
Removing dead skin cells from all over the body is so very important because it allows moisturizer to really absorb into the skin. Plus, it increases body circulation and texture of the skin allowing you to get a closer shave! Keep forgetting to exfoliate? Leave a loofah or a great scrub (like the ACEQUIA Mineral Body Scrub) in your shower as a reminder.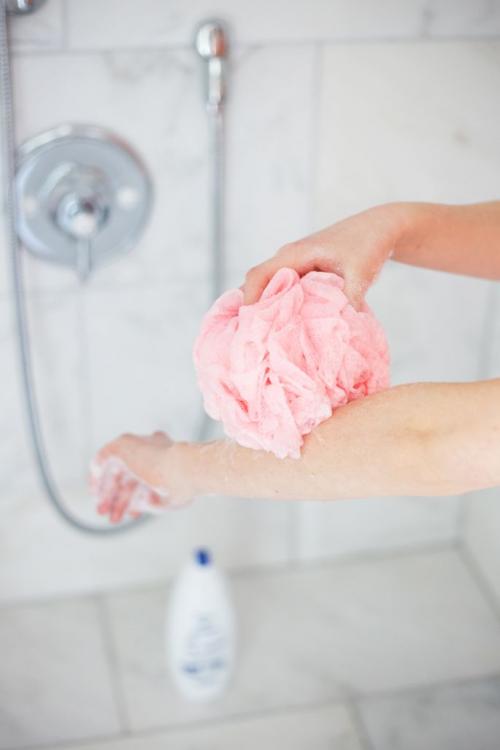 (image: pink peonies)
3. Visit a dermatologist
It may seem unnecessary unless your skin is particularly problematic, but having an expert create a scientifically proven treatment plan just for your skin is priceless. Also have your doctor do a full body skin check to look for suspicious moles as a sign of skin cancer. This exam should be done at least once per year. 
4. Switch up your shampoo
Think of your hair the way you think about your skin. Depending on the climate and your own body chemistry, your skin can range from dry and rough to oily and smooth. Well, hair is the same way. Just as you would use different products on your skin during these times, you should do the same for your hair.
Lately we're loving Aveda products. For hair that is oily at the roots and dry at the ends try the Scalp Benefits Shampoo and Conditioner. If your hair is flat and lifeless try the Pure Abundance Volumizing Shampoo and Conditioner. Dry and damaged? Their Smooth Infusion line may be just the ticket. There are great options at the drugstore too, but the point is to keep a few different formulations on hand to address your hair's ever changing needs.
Tip: Don't be afraid to mix and match the shampoo for one concern and a different conditioner for another!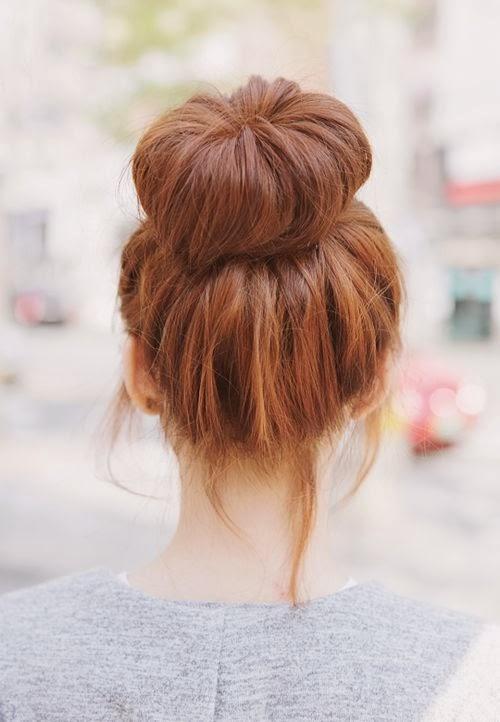 (source unknown)
5. Moisturize + SPF
It's no secret that repeated sun exposure can cause premature aging and even skin cancer so make applying SPF a daily habit now so that you will love your skin later. Even if your foundation contains SPF, don't rely on just that to protect your skin from harmful UV rays. To keep the process as hassle-free as possible, look for a moisturizer that has SPF built in (we like Murad Balancing Moisturizer with SPF). 
6. Set your liner
You may have a love/hate relationship with eyeliner because by midday it has moved clear away from the original line and is now smeared underneath your eyes. To keep your liner looking fresh all day, try setting it with a similar colored eyeshadow right after drawing it on your upper or lower lash line. Although this alone will freeze it into place, we love the bareMinerals Long Wearing Eyeliner for it's long lasting no-smudge properties!
7. Use a serum
If you don't have a serum in your skin care arsenal, you're seriously missing out. Serums provide a lightweight, yet extremely concentrated dose of active ingredients that are quick to absorb into the skin. With so many options, it shouldn't be hard to find one to suit your skin needs.
We have so many favorites! If your skin is red and irritated you'll love the REN Evercalm Anti-Redness Serum. If you're looking for hydration try the Sibu Seabuckthorn Hydrating Serum. For hormonal acne relief we recommend the Murad Advanced Acne and Wrinkle Reducer. And if you need renewed texture and vibrancy the SkinMedica GlyPro Antioxidant Serum might just become your new best friend.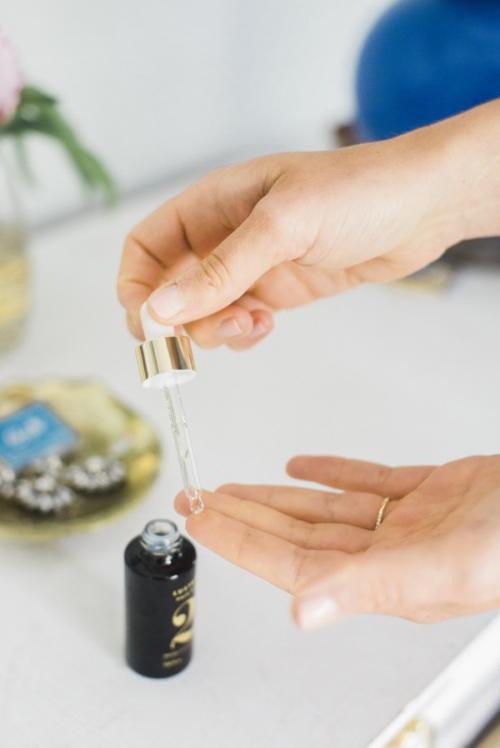 (image: glitter guide)
8. Clean up your diet
Caffeine, sugar, cigarettes, alcohol and even environmental pollution are all toxins that can wreak havoc on the skin. Your best bet? Cut out what you can and limit exposure to the rest. Continued use will eventually show up on your face. 
9. Gear up
You know all of those skincare devices that kind of resemble something you'd see on Star Wars? We totally get it. The price of these tools may leave you feeling a bit overwhelmed. Not to mention using them correctly may seem like a daunting task, but we've found a few that are worth the learning curve. 
The NuFace Trinity Facial Toning Device is a small, at-home system that uses microcurrent technology to improve facial contour, skintone, and helps reduce wrinkles and lines. How to use it? Gently glide the metal ends of the device along the natural contours of your face in an upward motion for a few minutes. Just a few days of use will leave you noticing improvements in no time.
The Foreo Luna is a silicone facial cleansing brush that uses T-sonic pulsations for deep, yet gentle cleansing and to reduce the signs of aging. Use it for two minutes daily with any cleanser. This brush is fully waterproof, never needs replacement brush heads, and each charge lasts up to 450 uses.
The Clarisonic Sonic Skin Cleansing System is probably a brush you're already familiar with because it's been around for longer than the first two devices we mentioned. Using patented sonic technology, this cleansing brush removes impurities from the skin six times more effectively than using your hands alone. Not only that, but it will also even skin tone and decrease the look of fine lines.
10. Clear it out
Makeup doesn't last forever. Chances are a good bit of your makeup collection has seen better days. Know when to toss your makeup and do it regularly! By clearing out all old makeup, you're removing that risk of transferring harmful bacteria to your skin. Plus, after a good purge what better excuse to take a trip to Sephora?