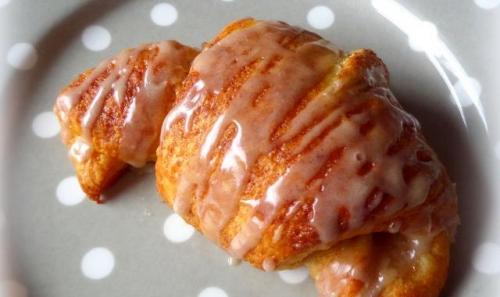 Serves 2-4
Preparation time 15 minutes
Cooking time 5 minutes
Ingredients:
2 oranges
50 ml (2 fl oz) soured cream
2 small ruby or pink grapefruit
1 tablespoon ground cinnamon, plus extra for sprinkling
1 tablespoon caster sugar
4 croissant
Preparation:
Grate the rind of one of the oranges and stir into the soured cream in a bowl. Peel tge other orange, then cut the skin and white membrane off both oranges and the grapefruit. Working over a separate bowl to catch the juice, cut between the membranes to remove the segments. Mix the fruit segments and juice with the cinnamon and sugar in a small saucepan.
Heat over a low heat for 1-2 minutes.
Meanwhile put the croissants on a baking sheet and bake in a preheat oven 200°C (400°F), Gas Mark 6, for 5 minutes or until thoroughly heated and slightly toasted. Split the toasted croissants lengthways and spoon the fruit mixture over the buttom halves. Top with a spoonful of the soured cream mixture and a sprinkling of cinnamon and replace the top havles.
Serve immediately.
For summer strawberry cream croissants combine 250 g (8 oz) hulled halved strawberries with 150 ml (1/4 pint) extra thick double cream or clotted cream and 1-2 tablespoons icing sugar, to taste. Drizzle over a little elderflower cordial and spoon into toasted croissants.