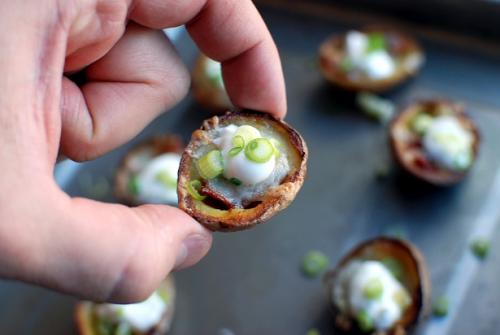 I have been playing around with my smoker and one of the most unexpectedly delicious things I have smoked so far is potatoes. The smoke flavor really gets into the potatoes, and if you get some nice baby potatoes like I did it only takes about 3 hours for them to be fully tender and bursting with salty smokey goodness. You could use the smoked potatoes for anything that needs potatoes. Mashed potatoes would be amazing, but I think I might try gnocchi next! Considering that there is supposedly some sort of sport thing happening this weekend I figured I would make them into these mini potato skins.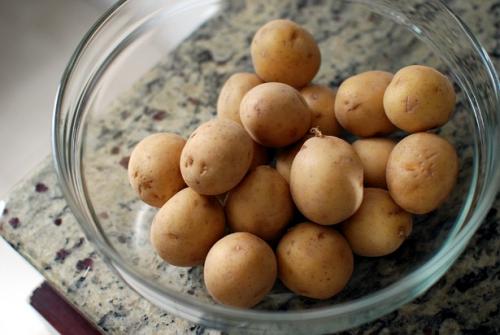 Baby yukon golds. You could also use some of those mini colorful ones, or even fingerlings for a more boat shaped skin. Toss with a little oil and salt.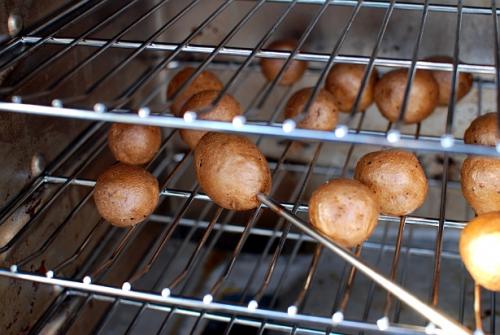 Pop them into the smoker with the thermometer in and smoke at 275 until the internal temp is 210. Mine took about 3 hours.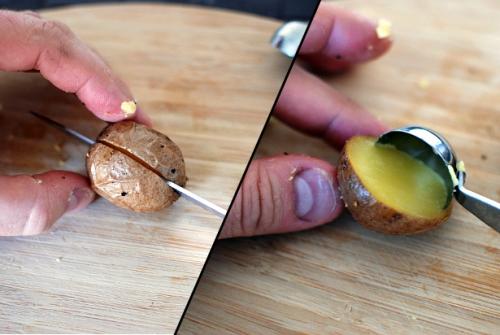 After they have cooled a bit, slice in half and scoop out the insides with a melon baller.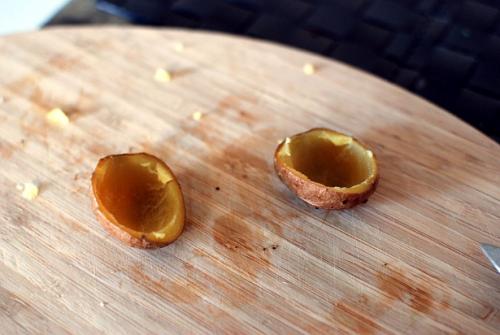 Perfect little skins.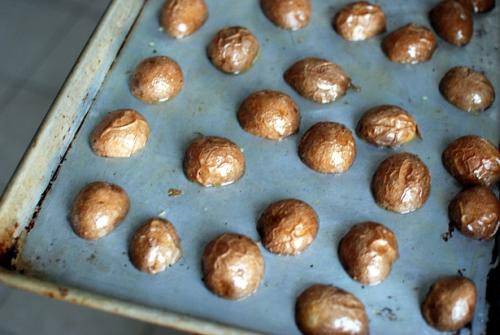 Crank your oven to 500 and put the skins skin side up on a greased sheet tray. Brush more oil onto the skin and lightly salt them.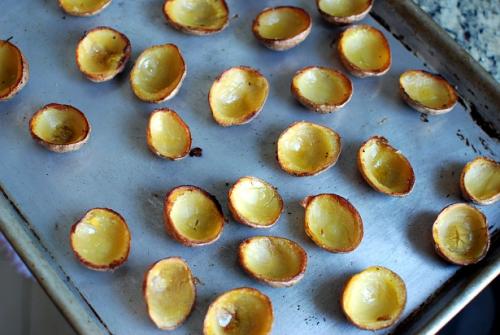 Cook at 500 for about 10 or 15 minutes until the edges are nicely browned and the skin is crispy. Flip them over and fill them with the bacon and cheese and put them back into the oven for about 5 more minutes.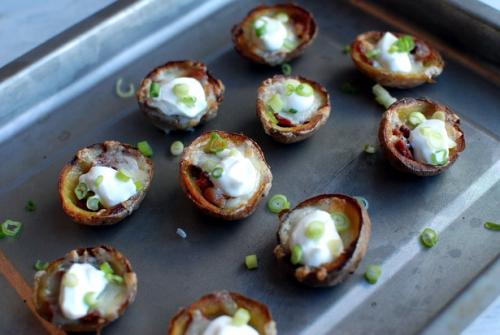 Fill them up with sour cream and scallions and serve! The smoke just adds a whole extra dimension to these. It makes the potato itself so flavorful when it is normally just the vehicle for bacon and cheese.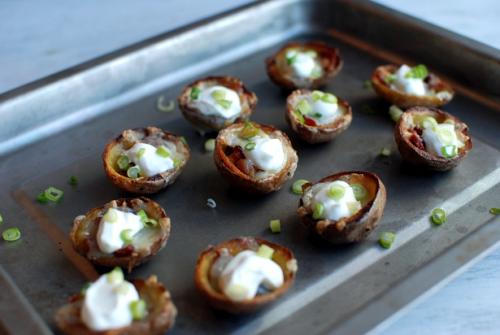 The smoke also enhances the bacon flavor without having to overdo it with the actual bacon.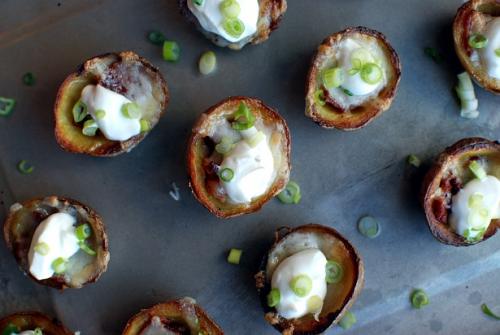 And as always the cooling sour cream provides the perfect foil for that smoky goodness to play off. Then just enough scallion to cut through the richness.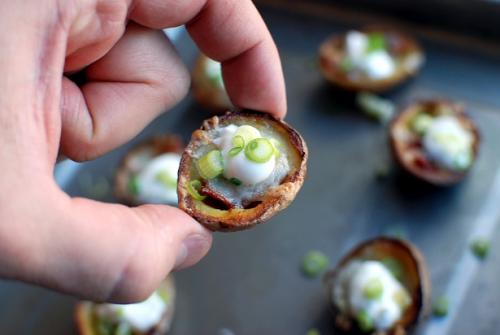 If you have a smoker consider tossing a couple potatoes in next time you fire it up!
Smoked Potato Skins
2 Pounds Baby Yukon Gold Potatoes
Cheddar Cheese
Bacon
Sour Cream
Scallions
Instructions
Preheat your smoker to 275 degrees and get it smoking really good. I used hickory wood for this recipe.
Toss the potatoes with a little oil and salt and put them into the smoker until their internal temp reaches 210. Remove and allow to cool.
Preheat oven to 500
Cut the potatoes in half and scoop out the insides with a melon baller. Place skin side up oin a greased baking sheet and brush the skin with additional oil and salt.
Bake the potatoes for about 15 minutes to brown and crisp.
Flip them and add the cheese and bacon. Cook another 5 minutes just to melt the cheese.
Top with sour cream and scallions and serve.