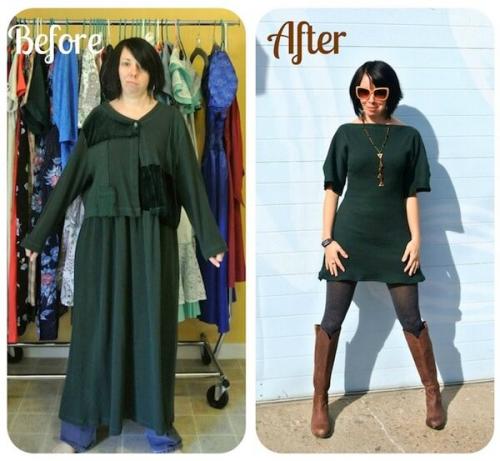 Fashion nowadays is undeniably classy yet a bit expensive and not so many are able to go with the new trends it accompany. But creative fashionista like Jillian Owens came up with such a great idea to change the world's perspective and view of modern fashion. Owen believes that you still can be in fashion without spending money like water. Seeing how fashion giants with their sneaky and deceitful work operation shoots up made her even more persuasive to do something about it. She then began to make some research and did surveys on some thrift stores where she can find clothings that are already out of fashion yet can make tremendous probabilities. South Carolina-based designer and writer said, "I was worried about the impact on our planet as people tossed out their one-time-wear duds more and more quickly to make room for the newer & cheaper clothing."
Owen thus, made it her routine to go over on thrift shops and search for pieces of clothes with some kind of fashion hidden inside it. She buys and takes them home with some great plans to alter them and make it something fabulous. She reworks on the entire material and does a total transformation with them by cutting them short, or color dying them turning them to a trendy outfit. For only $1, she can make these clothes more fashionable by adding some accessories such as belt, shades, and doll shoes. Finished product? Newly stylish wardrobe hanging in your closet without putting a hole in your purse.
Check out many, many more styles on her blog, Refashionista.