We all know that New York City is a veritable hotbed of culinary fusion, offering food and drink from almost every corner of the globe.
But the Big Apple is also the place where a number of now much-beloved dishes enjoyed nationally - and in some cases internationally - originated.
It was not always by pure invention, to be fair, but more the adaptation of something from somewhere else given a unique twist that become the iconic standard.
Here is a look at some of the best of those gastronomic inventions and where you should head to experience them at their very best.
Cheesecake - Junior's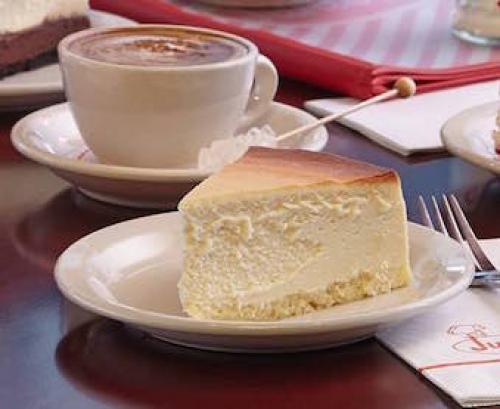 The creamy, calorific delight that is cheesecake has actually been around in the US since colonial times. Martha Washington even had three different recipes for it in her personal recipe archive.
But this was not the cheesecake we are used to. It was made using cheese curds and is a denser, heavier dessert, more like Italian cheesecake.
No, the cheesecake you are thinking of is known in culinary circles as Jewish style and it did not emerge until well into the 19th century. The turning point was the innovation of cream cheese, first perfected in the Catskills in the 1870s.
Jewish immigrants then brought the stuff back to NYC from their summer trips and the cheesecake you know and love became a city slicker's favorite too. And then, in 1950, Harry Rosen opened up a diner in Flatbush, Brooklyn called Junior's that quickly gained a reputation for serving up the best cheesecake in the city. And it still does.
Junior's is located at 386 Flatbush Avenue EXT, Brooklyn
Lobster Newberg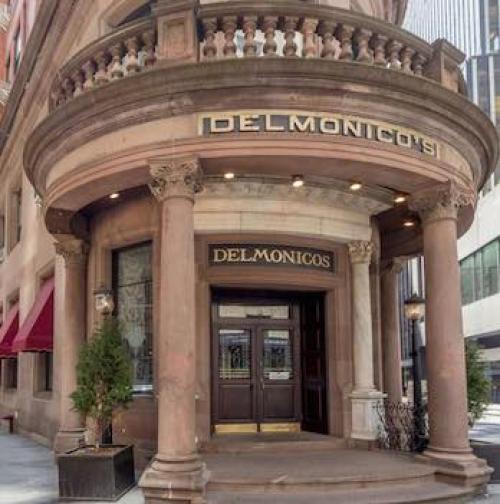 A luscious, extravagant luscious concoction of multiple crustaceans drowning in cream, sherry, cognac and pepper the Lobster Newberg is a seafood lover's dream come true. It originated at Delmonico's and that is where the best example of the dish is still to be found.
As the story goes one Captain Ben Wenberg brought a recipe for lobster to Delmonico's in 1876 after returning from a sea voyage for the chef, a friend of his, to prepare.
Charles Delmonico, owner of the restaurant and another chum of Wenberg's was so delighted with it he had it immediately incorporated onto the menu and even named it after it's 'creator'.
A few years later though, the two got into a huge argument and so to spite the Captain Delmonico reversed the first three letters so that the dish became the Lobster Newberg we know and love.
Some people insist it's spelled 'Newburg' but they are - and you can tell them this - completely wrong.
Delmonico's is located at 56 Beaver Street
Fried Chicken and Waffles - Amy Ruth's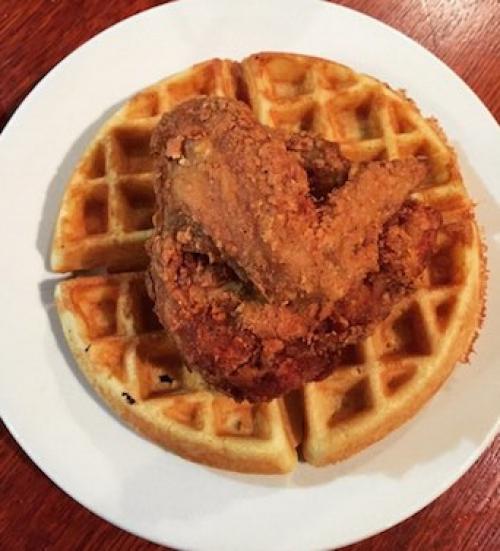 You thought this was a Southern dish? It's nothing of the sort, it's pure New Yawk. The sweet and savory classic was the brainchild of the owner of a Harlem jazz club in the 1940's.
The club (not quite legally) stayed open all night the demand for food tended to be highest at 3 am or so. but what to eat at that hour, a late dinner or an early breakfast? This was the very tasty solution to that dilemma.
Obviously for the best that the city has to offer right now we are going to direct up to Harlem and to Amy Ruth's.
The waffle batter is made fresh from scratch, the chicken is plump, juicy and fried to perfection and you can enjoy variations like the Rev. Al Sharpton - a generously sized sweet Belgian waffle topped with fried or smothered chicken - or the Tommy Tomita, which features fried chicken wings.
Amy Ruth's is located at 113 West 116th Street
Eggs Benedict - Tartine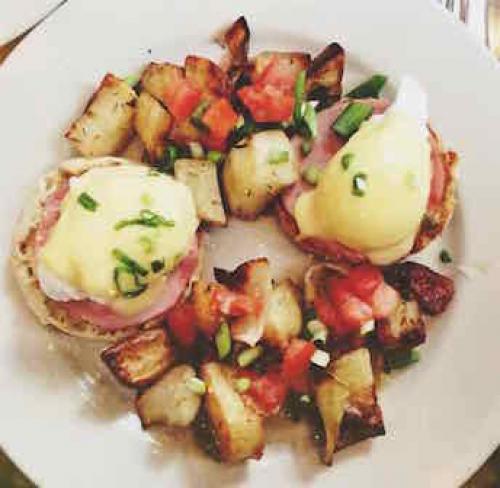 It sounds French, it tastes French but the classic Eggs Benedict was the invention of the legendary Oscar of the Waldorf, who debuted it there in 1890.
His original version called for it to be topped off with a shaved truffle but that is, for fairly obvious reasons, rarely a component of the modern dish.
The most essential component of the dish, the one that makes the difference between a good and bad example, is the hollandaise sauce.
Tartine, a French eatery in the West Village, are very, very good at doing it right and you can also mop up the leftovers with one of their deliciously buttery house-made croissants for an even bigger taste experience.
Tartine is located at 253 W. 11th St.
Manhattan Clam Chowder - Randazzo's/Oyster Bar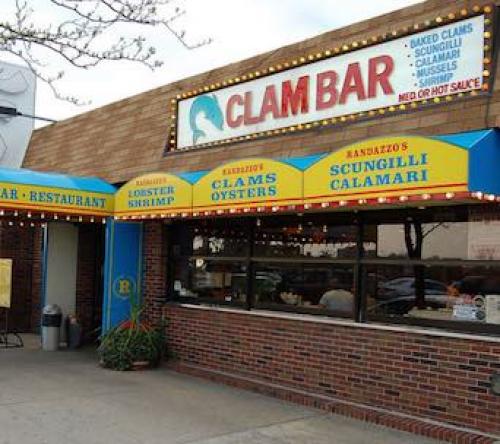 Manhattan Clam Chowder actually originated as Coney Island Chowder and it was served up along the boardwalk in the late 1800s by Italian immigrants.
There are a number of twists that can be added to this classic red soup, but if you want a taste that is close to the original then a visit to the legendary Randazzo's in Sheepshead Bay is called for.
There the broth is thick and hearty, packed with rubbery but flavorful bivalves and has a very Sicilian taste. Alternatively, you could head to Grand Central's Oyster Bar for a take on Manhattan Clam Chowder that is distinctly Creole, with lots of spice, minced onions and green peppers. Or you could just do the right thing and try both.
Randazzo's is located at 2017 Emmons Avenue, Brooklyn
The Oyster Bar is located in Grand Central Station at 89 East 42nd Street