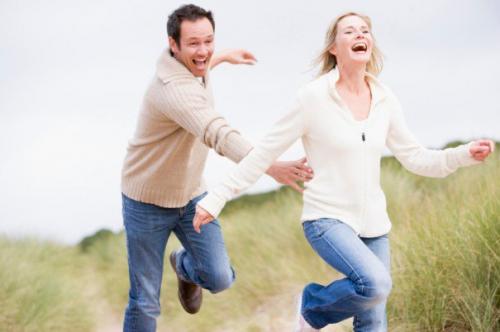 "The secret of attraction is to love yourself. Attractive people judge neither themselves nor others. They are open to gestures of love. They think about love, and express their love in every action." ~Deepak Chopra
Here's the bottom line: we want people to like us. Even when we say we don't care what people think, we really do.
We desire to be loved, respected, and viewed in a positive light. Our human interactions are vital to our sense of well-being, self-esteem, and happiness. When we discover that someone doesn't like us or rejects us in some way, our emotions can run the gamut from defensive indignation to deep pain and profound sadness.
For any of us who have attempted to be likable and attractive to everyone, you eventually realize the futility of this exhausting endeavor.
It is impossible to "make" everyone like you, and even if you could, you will ultimately lose your self in the process. When you morph into a people pleaser or an actor playing roles to accommodate those you want to impress, you often alienate the very people you hope to charm.
Only when we see ourselves as lovable and embrace our own authentic qualities, needs, ideas, values, and personality traits, do we release the pheromones of being attractive to others. Although not everyone will be intrigued by your authenticity, those who are attracted to you will generally be emotionally intelligent, mature individuals who value genuine and unaffected relationships.
Self-love, self-confidence, and authenticity are the foundational elements of attractiveness. To strengthen this foundation and foster the transition from "trying to impress" to naturally attracting wonderful people attracting wonderful people into your life, there are some specific changes and shifts you can adopt.
Learn how to be attractive by taking these 36 actions:
1.  Develop your own personal operating system. Carve out and define your own reality, philosophy, values, and interests rather than automatically  accepting those of your family, peers, religion, or culture.
2.  Begin to let go of the need for validation. Don't be motivated by the opinions or others or the desire for recognition. Be driven by what is important to you and what you value.
3.  Trust your instincts and allow for experimentation. Get to know yourself and discover what you enjoy and find exciting, even if you have to fail a few times.
4.  Accept others as they are. Begin letting go of judgments and criticism of others. Focus on people's strengths rather than their faults. Learn to deal with difficult people without diminishing yourself.
5.  Really hear people. Go beyond just listening and understanding. Let people know that you really get them.
6.  Take care of unresolved matters in your life. Restore your integrity. Forgive and ask for forgiveness where necessary. Reclaim the energy you have given to these matters.
7.  Embrace a healthy lifestyle. Get some form of exercise daily. Eat healthy foods that support your body, not your emotions. Do this because you respect yourself, not to impress others.
8.  Cause things to happen. Don't wait for them. Be a creator, an instigator, a collaborator. Share your enthusiasm.
9.  Show people you care. Don't just talk about it. Show them in ways that are meaningful to them, not you.
10. Require the best of people. See them not only for who they are, but who they can be. Lovingly reflect that vision to them.
11. Ensure your own needs are met. Discern your primary needs, and communicate fully what is important and valuable to you  in your relationships. Don't compromise these to keep peace or hang on.
12. Speak constructively. Use your words to uplift, inspire, motivate, and encourage. Don't offer "constructive criticism" or subtle digs.
13. Laugh easily. Have a lightness about you. Take life less seriously and choose to find and create fun and joy.
14. Cease gossip. Choose not to talk about others in ways that are openly or subtlety critical. Don't share information for the feeling of power or intrigue.
15. Make requests, not complaints. If you need something from someone, ask for it directly. Don't whine or complain to them or others.
16. Handle situations fully. Kindly but clearly deal with negative issues as soon as possible. Don't tolerate anything if it causes resentments.
17. Be done with arguments. Smile and walk away until healthy communication is possible.
18. Offer help only when asked. Don't assume that others want you to fix them or that you know best for them. Be available and give help only when asked.
19. Care deeply, but remain detached. Let others know you care deeply about them when they have problems, but don't get caught up in their problems.
20. See with your heart, not your eyes. Look beyond superficiality when seeing someone. Financial status, appearance, notoriety, all mean nothing. Look for the authentic person inside.
21.  Don't say yes when you mean no. If you mean no, your yes will be harnessed with resentment. Say yes only when your yes is given freely.
22. Let others know you are grateful. Tell them and show them that you feel blessed to have them in your life.
23. Never play the guilt card. Don't try to manipulate or hurt someone by trying to make them feel bad about their choices, decisions, or actions.
24. Give more than is expected. Don't over-commit, but freely give more than you promise.
25. Be inter-developmental in your relationships. Don't be controlling, dependent or co-dependent. Create relationships that are mutually uplifting, reward, and satisfying.
26. Be a big person. Don't try to take credit, diminish others, or hold back on praise. Offer acknowledgment and power when it is needed and deserved.
27. Be confident enough to be humble. Be able to laugh at yourself, acknowledge your flaws and failures, and accept that they don't define you.
28. Be open to learning. Don't flaunt your intelligence or superior knowledge. Recognize that there is always something to learn, even from those who appear "less than."
29. Be more engaged than engaging. Show your sincere interest in others. Use the word "you" more than "I." Listen intently and reflect back to others who they are.
30. Give gifts that others want. Not just gifts to impress or that are important to you.
31. Challenge yourself constantly. Don't settle for mediocre. Don't languish in past accomplishments. Keep moving forward and exude enthusiasm about possibilities and the actions to make them happen.
32. Detach from adrenaline. Simplify your life enough so you are not rushed, stressed, cluttered, or distracted. Allow yourself time and room to focus.
33. Embrace the incredible power of now. Nothing is more valuable than this moment. Make it the best moment you possibly can right now.
34. Don't fight the flow. Don't struggle against people or situations you can't control. Move effortlessly in a different direction.
35. Keep evolving. Stay on a path of self-improvement and stay alert for opportunities for shifts and growth.
36. Accept that you won't be attractive to everyone. As you evolve and become more attractive, fewer people will be attracted to you — but what an incredible group they are!