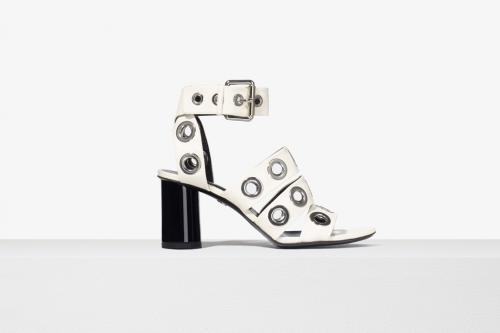 Proenza Schouler's grommeted ankle-strap sandal.
Designers must have been listening to a lot of rock music for inspiration this season. For spring '16, classic footwear shapes toughen up with silver buckles, grommets and studs.
The metal embellishment was first seen on the runways. High-end brands like Louis Vuitton, Alexander Wang and Burberry made us of heavy metal chains on their shoes. The embellishment trend continued with other luxury brands in various forms, via tastefully placed grommets or minuscule spikes.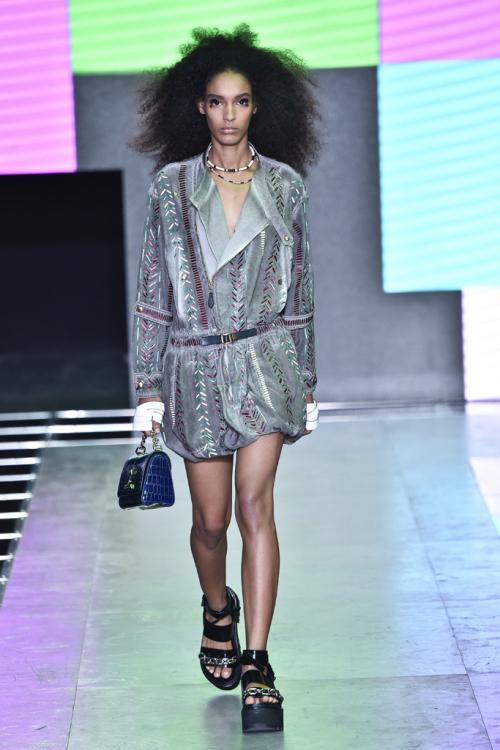 A look from Louis Vuitton's spring '16 runway show. REX Shutterstock/Giovanni Giannoni.
Proenza Schouler offered grommeted ankle-strap sandals, a detail that has become its signature every season now. Giuseppe Zanotti used the circular design on a flat oxford shoe — a more mensy take on the trend.
Spikes also made an appearance on a bevy of footwear styles, meaning your shoes can double as a weapon. Christian Louboutin offered his signature studs on a new pointy pump shape, while Tod's presented more subtle studding on its classic driving moc.
There's a way for everyone to participate in the trend this season, whether you're a style extrovert or introvert. Just remember: You need the attitude to match.