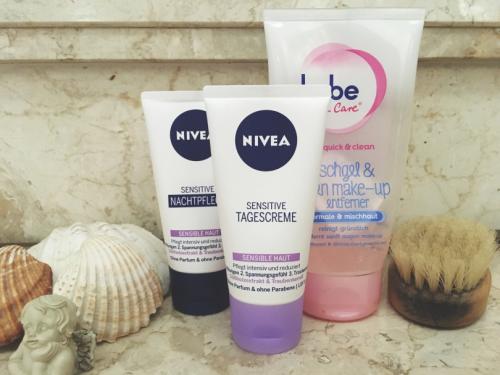 The weather keeps getting colder and winter is slowly arriving here in Germany which means showing some extra love to my skin. Luckily, I was blessed with smooth and clear skin during my teenage years but it recently started turn into a problem when I started discovering more and more pimples and dry patches. Steam baths and face masks have definitely helped me out in the past weeks. But the problem wasn't really solved until I switched up my whole skin care routine.
bebe young care – quick & clean cleansing gel and eye make up remover 
Honestly: When was the last time you went to bed still having your make-up on? Thinking about all the nights I came home from partying and went straight to bed without washing my face before makes me cringe now. Being my responsible 20-years-old self now (haha! I can already hear my friends laugh once they read this) taking my make-up off is a must every night. So I fell head over heels when I discovered this goodie in a local drugstore. It removes your make up instantly, refreshes your face and the scent is to die for!
Nivea Sensitive Day & Night Care
Who else is part of the dry skin club? If you have ever experienced dry skin you know how annoying itching dry patches and tightness can be after washing your face. I have tried many different drugstore lotions until I found the Nivea Sensitive Day and Night Care edition. Being paraben- and perfume-free these lotions are definitely perfect for winter!
Cleansing brushes
Last time I visited my 80-years-old neighbor we sat down for a cup of tea and talked about current beauty trends. I have to admit: This woman definitely knows more about beauty and fashion than I do. So lucky me she was ready to share some of her beauty tips and told me the secret behind her smooth skin: Cleansing brushes! All you have to do is take a face scrub and a cleansing brush. That way you clean pores and exfoliate and smoothen the skin.