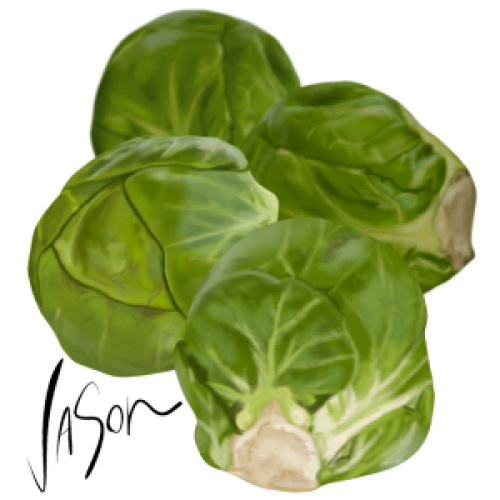 Brussels Sprouts are mostly in season around the autumn months; however they are still pretty abundant during winter.
They are popular in my household, and often finding their way onto our dinner table several times a week.
Brussels Sprouts are basically miniature teardrop shaped cabbages, a bit smaller than a ping pong ball, and made up of tightly packed leaves.
They grow as little brassica buds that sprout along a single stem of a cabbage-like plant.
Admittedly, their flavour is not to everyone's liking.
In fact, they have long been unpopular with children, who are often sensitive to the earthy (somewhat bitter) flavour. It's an acquired taste.
Farmers have worked hard to improve the taste of Brussels sprouts through many years of careful cultivation, resulting in a more subtle and less robust flavour.
As with other challenging ingredients, it's the kitchen preparation that counts.
Brussels sprouts can be boiled, but this can destroy their nutritional qualities.
I personally like them steamed and tossed in a little butter and seasoning. They are also surprisingly delicious when roasted.
The raw outer leaves can be separated and tossed through a dressed salad with bacon and almonds.
Brussels Sprouts are fabulous in a vegetable stir-fry.
Balsamic Roasted Brussels Sprouts
750g Brussels sprouts, cleaned and halved
3 tablespoons extra virgin olive oil
1 teaspoon salt
½ teaspoon freshly ground black pepper
1 tablespoon balsamic vinegar
1 teaspoon honey
Preheat oven to 210oC,
In a bowl, toss Brussels sprout with 2 tablespoons of olive oil, salt and pepper.
Place the Brussels sprouts on a paper lined roasting tray and place in oven. Stir occasionally to achieve even browning.
When roasted, immediately place back into the bowl, add remaining 1 tablespoon olive oil, balsamic vinegar and honey, then toss until evenly.