Ingredients:
- 2 eggs
- 150 g butter
- 200 g sugar
- 300 g flour 
- 10 g baking powder
- 0.5 tsp soda
- 1 tbs vinegar
- 1 glass of milk
- 70 g cocoa powder.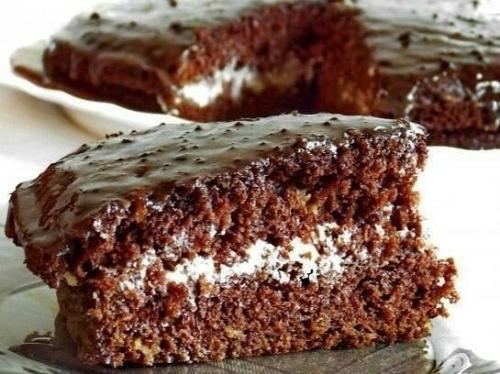 You can make any custard you want. 
Decorate with chocolate icing or cocoa.
Mix flour, cocoa powder, baking powder and soda in one bowl. 
In the second bowl whisk melted butter, sugar, then eggs, adding them one by one.
Add a tablespoon of vinegar to the glass of milk. 
Mix the contents of 3 bowls together: dry pastry components, whisked mixture and milk with vinegar. 
Pour the ready pastry - fragrant, liquid, fairly thick - into the separable form with baking paper in the bottom. Grease the edges with vegetable oil. 
Bake at 200C for about 30 minutes. After that, check using a toothpick. 
Cool the layer and divide it into two. Make custard: whisk 1/2 package of butter with 1/2 package of condensed sweetened milk and oil the layers. 
Melt the chocolate on a water-bath and pour the upper part of the gateau. 
The chocolate gateau is ready! And now I'll tell you how you can vary the basic version. 
You can make different custards: creamy, with condensed sweetened milk or with toffee, white boiled or cocoa, or you can just oil the layers with a thick creams.
You can add prunes or nuts to the custard in winter and fresh berries (cherries, raspberries and apricots) in summer. 
You can decorate the gateau with custard or chocolate icing, grated chocolate or berries.... Enjoy!