I've been experimenting with DIY mask recipes. We pay a fortune to some known brands for their natural and organic masks. Million dollar question is, why can't we make our own concoctions at home? We can have fun with it and save some $$$ to invest in serums we cannot make at home.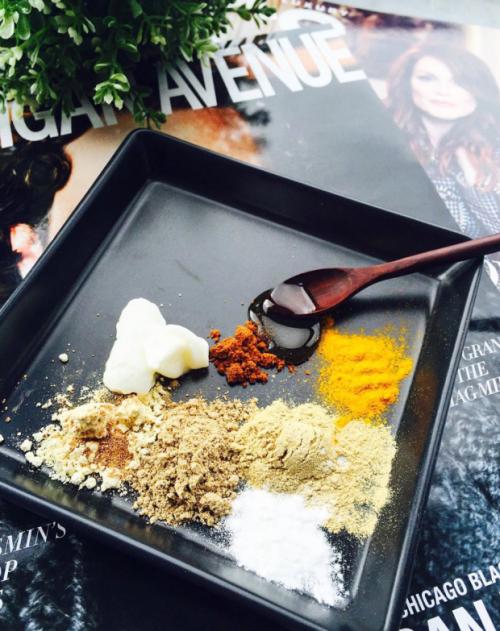 Here is my approach to DIY masks and scrubs at home, all ingredients are listed below (not a complete list, its subject to your own creativity). I don't intend on publishing "set" recipes. In my opinion and experience, its more important to understand what your skin needs and how will your chosen ingredient address those specific concerns. Based on that you can formulate your own recipe (loosen up and have fun in this whole process).
The Rule is, there are NO Rules. You can throw in as many ingredients as you like, you can work with whatever you have at home and make it your own.
CLAYS:
French Green Clay – richest in mineral compositions, excellent for drawing toxins and oils from the skin
Fullers Earth Clay or Indian Fullers Earth – this clay is a strong absorbent therefore making it an excellent choice for drawing excess oils from the skin and stimulating circulation to the skin
Rhassoul Clay (Morocco) – high in Silica, Magnesium, Iron, Calcium, Potassium and Sodium content this clay reduces dryness, flakiness, removes dead skin cells, absorbs oils, improves the texture and appearance of skin
White and Yellow Kaolin Clay – also known as China clay. Least aggressive making it an excellent option for most sensitive skin types whilst it stimulates circulation and gently exfoliates. Unfortunately it does not draw impurities from the skin
Red Kaolin Clay – highly absorbent and used for drawing oils and toxins from the skin. Not a favorable choice for sensitive or dry skins
Pink Kaolin Clay – combination of red and white clay and suitable to most skins types
Moor Mud – detoxifying, anti-inflammatory, astringent, tightening, drawing of impurities, toning and balancing to the skins surface healing. Apparently, "Moor Mud" has tremendous therapeutic properties
Volcanic Ash – fabulous to exfoliate the skin and draw out impurities
KITCHEN BASE POWDERS: 
Cocoa Powder – high antioxidant, vitamin and mineral content. Helps in increasing blood flow, making it a wonderful option for congested acenaic skins
Coffee grounds – wonderful exfoliant and stimulating blood circulation
Oat Meal Powder – fabulous for dry, sensitive and dehydrated skins.
Almond Flour or Meal – naturally rich in vitamin E, monounsaturated fat, a gentle exfoliator for sensitive dry skins
Acai Berry Powder – highest in ORAC  (Oxygen Radical Absorbance Capacity-absorption of free radicals) and antioxidants, helps repair damaged collagen and elastin and reduce inflammation
Brewers Yeast Powder – chosen to detoxify clogged pores (kills trapped bacteria in skin). Its loaded with B-vitamins, protein, folate, potassium, copper, iron, magnesium, zinc, manganese, chromium, and selenium.
Calamine Powder – a form of zinc oxide. Works to soothe any irritations, absorbs excess oil, and calm inflammations
Chlorella Powder – rich in amino acids and antioxidants which is wonderful for detoxifying skin. Also aids with blood circulation, and firming skin
Ground Garbanzo flour – excellent cleanser with oil absorbing properties
VEGATABLES:
Papaya – fabulous for papain enzymes, wonderful for resurfacing skin and adding glow to the skin (with a dash of cinnamon is my personal favorite)
Tomato – excellent to treat congested pores, glow to skin, controls oil production, and fights cellular damage
Cucumber – cooling and soothing effect on skin
FRUITS:
Berries – high in antioxidants and anti inflammatory properties
Grapes – this is well documented in Caudalie's owner Mathilde Thomas book, high in polyphenols wonderful for anti aging, skin softening, skin brightening, hydration.
Citrus Fruits – high in fruit acids wonderful for exfoliation and giving yourself a mini peel at home
HERBS: you could make a paste or boil in water to get its essence
Mint Leaves – cools, refreshes skin and stimulates tired dreary skin.
Holy Basil – highly acclaimed for its healing properties, works magic on eczema, acne, and skin irritations, soothe inflammation, and adds glow to the skin.
LIQUIDS: to mix and bind all dry ingredients to desired consistency
Raw Honey – powerful antimicrobial, regulated skin ph, high in antioxidants, humectant, and rich in nutrients. One word FABULOUS.
Yogurt & Milk – lactic acid resurfaces and excellent humectant
Teas – black, green, white or red tea. Wonderful source of antioxidants 
Rosewater – cooling, soothing and calming for sensitive skin
Apple Cider Vinegar – excellent for acne and congestion prone skins
Olive oil, Cream, Clarified Butter (ghee)  – delivers moisture, and acts as humectant
Glycerin – humectant
SPICES: you need the tiniest pinch to do the job. 
Cinnamon – plumps skin, antiseptic, soothe dry skin, improve blood circulation
Nutmeg – prevent infection and reduce swelling, strong antifungal and antibacterial activities, astringent and anti-inflammatory properties. It can reduce the infection and swelling around your clogged pores
Clove – antiseptic and antibacterial properties, antioxidant, antifungal, antibacterial, aphrodisiac, antiviral, antiseptic, anti-inflammatory and analgesic properties
Cayenne Pepper – rich in vitamin C and E, stimulates blood flow which helps nutrients get to skin cells. Opens clogged pores, stimulates the blood flow, and very effective with blemishes
Saffron – excellent to add glow to the skin. Helps with pigmentation, dark circles, acne, and brighten dull lack lustre skin.
Sodium Bicarbonate – mild antiseptic, anti bacterial, helps excessive oil absorption, skin brightener.
Turmeric – powered by antioxidant curcumin it has anti bacterial, anti inflammatory, antioxidant, and redness reducing properties. Used to soothe acne, dark spots, hyperpigmentation, eczema, hives.
ESSENTIAL OILS: Drop or two of Essential Oils you may like. OR Add a few drops of your regular facial oil.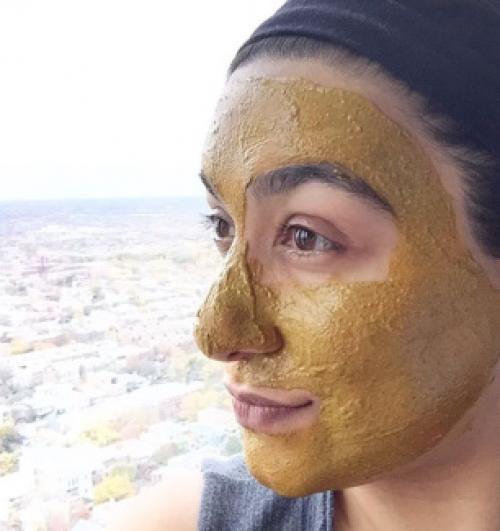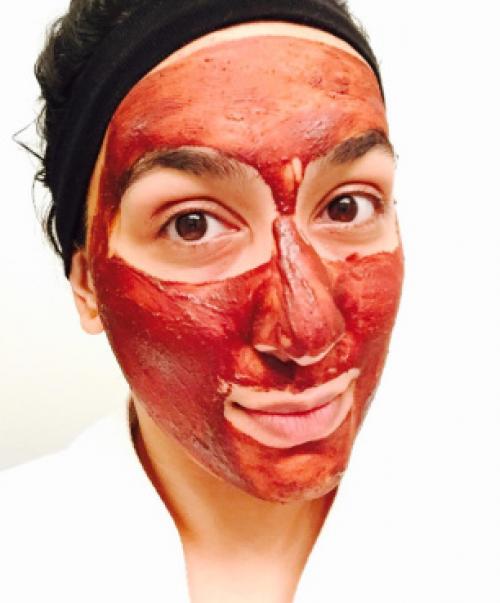 Give it a whirl and see how you go. Its an endless trial and error process but you have to ensure you have fun with the whole process.
If you can cook a decent meal for your tummy, surely you can cook a decent meal/mask for your precious face.