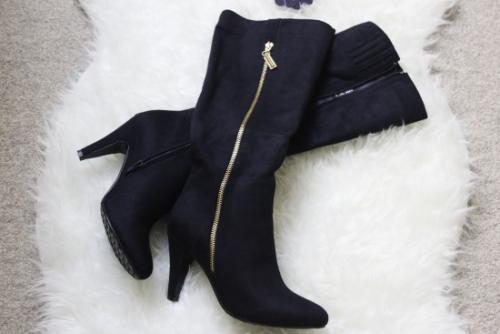 The autumn/winter season is here again, and that means we got our coats, jumpers, scarves, snoods, sweaters and boots out ready to get our layering groove on. This is such a fun season for the fashionistas, as well as for the 'ordinary people' like us. I look forward to this season because I find the layering trend very stylish and comfortable. The colours of the season are some of my favourites as well, so I am loving the pieces and accessories in stores at the moment. It did take me a while to get a hang of it, but once I understood how it worked, I now enjoy dressing up during the cold months.
I love my Boots especially, I have been building my collection, and I have quite a few now; the one above, Suri Long Boot is a new addition from Lunar shoes. I love the suede look, and the small heel makes it very practical. You will be seeing more of this beauty in an outfit post, so keep your eyes peeled.
I find Boots very versatile, they make dresses and skirts wearable during the cold months, and they add a touch of glam to jeans or leggings. Here are 5 tips for you to remember when next you want to rock a pair of boots:
Wear short skirts or dresses with a stiletto thigh high boots, or flat heel boots with a mini. This looks are more covered, and remember your tights!
When rocking fuller skirts, make sure the hem of your skirt, falls just over the top of the boots. It looks more pulled together.
If you do not like to dress up too warm, pair your tall boots with lighter pieces – skirts and dresses. The boots would keep you warm, and you get some wear out of your lighter pieces during the cold season.
Pair your tall dark boots with the same colour for your jeans or leggings. So if you are wearing a black pair of boots, pair it with a black pair of jeans or leggings. This look makes your legs appear even longer.
Wear ankle booties with trousers for a more formal look. They slip under the pants quite easily, and appear more formal.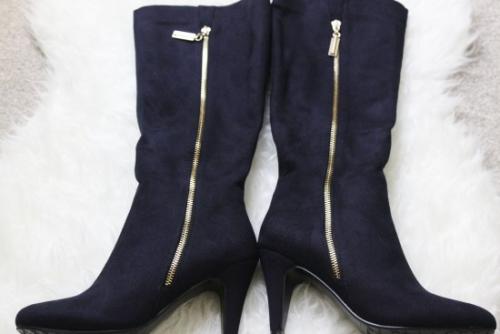 So those are my 5 tips for wearing boots this season. Do you have any tips to add? Drop me a comment, let's chat.
Happy thanksgiving my American friends. Have a great weekend everyone.