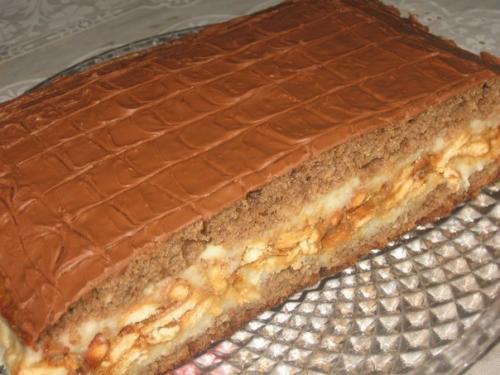 Ingredients:
for the pastry:
- 3 eggs
- 250 g sugar 
- 3 tbs cocoa 
- 3 tbs sour cream
- 250 g flour 
- 1 tbs baking powder. 
the 1st cream:
- 3 glasses of milk
- 1 glass of semolina
- 3/4 glass of sugar
- 250 g butter
the 2nd cream:
- 1 package of cracker 
-  500 ml sweetened condensed milk
- 200 g deep fried peanut
for an icing:
200 g cholocate. 
Firstly, we'll cook the pastry. Separate the egg-whites from yolks. Whisk egg-whites with sugar, then slowly add yolks and continue whisking. Mix cocoa with sour cream and add to eggs. Add flour and baking powder, stir carefully. Divide the mixture into 2 parts and pour into the greased baking form. Bake in the oven at 180C for 30 minutes. There should be 2 layers. 
Cook the 1st cream. Cook semolina cereal with milk and sugar. When the porrige cools, stir it with the butter. 
Cook the 2nd cream. Pound cracker and mix it with the sweetened condensed milk and peanut. Don't pound peanut. 
When the layers cool, arrange the gateau in such an order: a layer, a half of the 1st cream, the 2nd cream, the rest of the 1st cream, the 2nd layer. 
Warm cocoa in a bain-marie or microwave oven and pour it off the gateau. Decorate with peanut or draw tracery on a cholocate with a knife.