Every woman wants to be beautiful! And some of us will spend countless hours trying to look our best, but most of us are making beauty mistakes that we had no idea were all wrong! I'm certainly guilty of a few of these.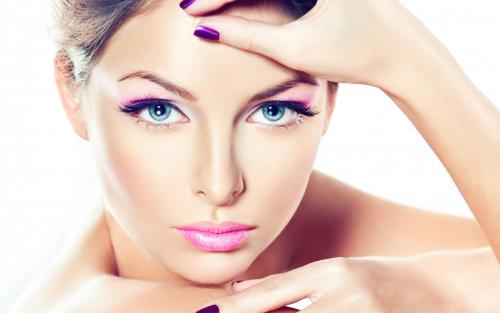 Beauty really is in the eye of the beholder, and I truly believe that we look our best when we are confident and feel like our best self, so don't change a thing if you love the way you look, as some of these are my personal preferences and own opinions on beauty.
1. Knowing How To Use Your Concealer
Which do you apply first, your concealer or foundation? It seems like this questions is somewhat of a debate because I've read a little of both on some of the most popular beauty blogs. I've always applied my foundation first, otherwise it seems redundant to apply concealer only to have the coverage wiped away with the application of your foundation, so in this case, as long as your concealer is blending in well and giving you the coverage you want, do whichever works for you! On that note, here are a few things you may be doing wrong with your concealer:
Too much in a targeted area. Instead, layer! Apply a small amount over your blemish, give it a chance to dry, then apply another layer. Continue layering if needed. For the best results, use a setting powder in between layers to prevent it from wearing off.
Using the same concealer for every job. Guilty! Every color has a different job. A peach-toned concealer is best for under-eye circles because it cancels out blue shadows. A green-toned concealer cancels out red (pimples and blemishes). Use it for your first layer and then finish with a concealer that matches your skin tone. Yellow-toned concealers are best for evening out your skin tone (larger areas).
Not taking advantage of its many benefits. It's not just for covering blemishes and under-eye circles! I've made this handy pictorial to show you how to truly take advantage of your concealer. Hope this helps!
2. Using The Wrong Color Eyeliner
Unless you have a darker skin tone, I feel that black eyeliner can be a little harsh, and perhaps best saved for a night out. A light to dark brown looks best on light to medium skin tones, especially if you have blonde hair, and green or blue eyes.
Whichever color you choose, take this advice from and select a lighter, more subtle color for your bottom lids (if any at all). Keep the liner off of your water line and use a nude pencil there instead to open up your eyes. Also, most women look best with eyeliner only applied to the outer 3/4 of their eyes. There's no reason to trace the entire eye! It doesn't look natural.
3. Harsh Eyeliner (Not Blending)
This is one of my biggest pet peeves. No matter what color of eyeliner you choose, if it's applied like a marker, it's going to look harsh. This doesn't do your beautiful eyes any justice. To achieve a more natural look, use a pencil liner instead of a liquid liner. And, a lot of pencil liners come with a blending brush on the opposite end– use it!
4. Tacky Lipstick 
Don't get me wrong, the right shade of lipstick can instantly give you a confidence boost, but a bold, unnatural color isn't attractive on most women. It distracts from the rest of your face and can make you look like you're trying too hard. If you do decide to make a bold choice, keep the rest of your makeup simple, and skip the gloss. A bright lipstick combined with smokey eyes and flushed cheeks can look more clown-like than pretty.
5. Wearing Bronzer All Over
If you're bronzer-challenged , you may be surprised to know that this stuff is not meant to be swept all over your face. The idea is to apply it to the areas where the sun would naturally hit. Stick to the outer edges of your face– the top of your forehead, cheekbones, and jawline. When done correctly, you will actually be drawing the number 3 on both sides of your face.
6. Wearing Lipliner All Wrong
One of the biggest beauty blunders that most women don't realize they're doing is not blending makeup properly. Harsh lines are the last thing you want if you're trying to achieve a natural look. Eyeliner is a popular one (my biggest pet-peeve), but lipliner is second on the list.
A lot of women wear lipliner to keep their lipstick from bleeding, but the harsh line that show up once your lipstick starts fading isn't pretty. The easy solution to this is simple: Blend, baby, blend!
7. Wearing Waterproof Mascara Every Day
Waterproof mascara is great for the obvious reason that it stays in place all day, but it's also a lot harder to remove and has more chemicals than you would probably care to know about. Not only does the everyday process of applying and removing it take a toll on your lashes, but the list of ingredients can cause your lashes to slowly wither and die. In short, save your waterproof mascara for the summer months only, and only on days where you think you might need it.
8. Applying Makeup In The Wrong Lighting
Most of us use the unnatural light from our bathroom mirror to apply makeup every morning. And this is fine if you've already applied and tested your makeup by a window, but if you haven't taken a look at your makeup lately somewhere other than your trusted bathroom mirror, you might want to get on that. Some of you may be surprised to see that your foundation, eyeshadow, or lipstick isn't quite as flattering as you had hoped.
9. Falling Prey To Beauty Trends
A beautiful appearance will last a few decades, but a beautiful personality will last a lifetime. We naturally want to fit in, and because of this we tend to fall victim to beauty trends that take over our life! You can only be the best version of yourself, so don't get too caught up in your physical appearance.