I've been practicing yoga for almost a year and I absolutely love it. I can't imagine not having yoga in my life now. However, yoga memberships can be very pricey and individual classes or class packages are also very expensive. Doing yoga at home, whether it's your own creation of poses or you're watching an online video, is always an option.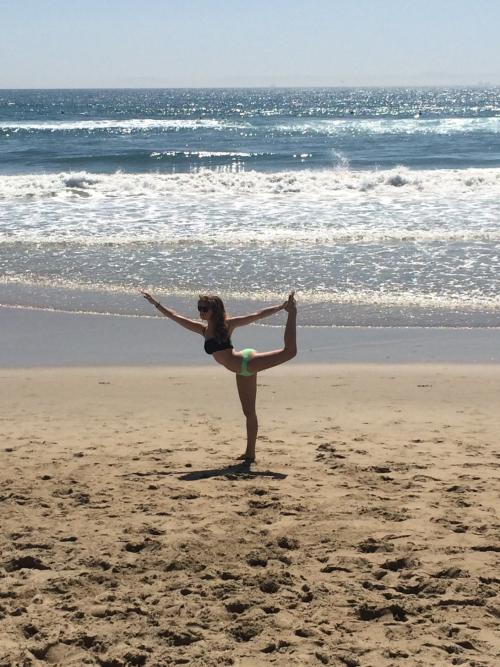 I did try practicing on my own at home but I found that having that class experience was so much more motivating and having an instructor there to help you and push you was much more beneficial. Not to mention my apartments have never allowed me the right amount of space to practice in and trying to move furniture and not accidentally kick a lamp over while doing an inversion doesn't really allow you to be fully present in your practice.
I have found that almost every yoga studio will give you a free week of yoga if you're new to the studio (some may just give you your first class for free or a discount so always ask what the new student policy is.) The first place I practiced yoga at was CorePower Yoga. They gave me a free week and I was hooked. I was going to sign up for a membership after my free week but when I saw their prices, I realized it just wasn't affordable for me at the time. So I moved on to the next yoga studio. I found YogaWorks and they also gave me a free week. After my week was up there, I heard from a friend that CorePower had a program where you help clean and maintain the yoga studio for a couple hours a week and get a free unlimited membership in return. This sounded amazing and I really loved my free week at CorePower so I went to my local CorePower and asked if they had any openings (which they did) so I became part of the Yoga for Trade program. I cleaned for two hours every week and got my unlimited yoga membership. Honestly the cleaning part wasn't really that bad; it mainly involved Swiffering all the floors, cleaning the mirrors, counters, etc. in the bathrooms and just restocking towels, water bottles, etc. The studio and bathrooms were never really that dirty so it was more of just maintaining as opposed to hardcore cleaning. (Note that CorePower studios may differ from studio to studio and may have slightly different tasks for their cleaning members.)
I was part of the Yoga for Trade program for six months and had improved so much in my practice. I absolutely loved it. CorePower then did away with the Yoga for Trade program and changed it to Studio Experience Team where instead of cleaning for two hours every week, we cleaned for one and a half and had the option to pick up two additional 1.5 hour shifts each week. Instead of receiving a free membership, we received a discounted membership. However, they paid us for the hours we cleaned each week which made us official CorePower employees. Unfortunately the amount we were paid and the price of our discounted membership didn't quite even out (unless you were able to pick up two extra shifts.) After trying out the new program for two months, I decided I wanted to try out some other yoga studios and do something a little different.
There were a couple new yoga studios that were near me that I was wanting to try. The first one I tried was Ra Yoga (they gave me a free week) and I absolutely loved it. They offer a variety of classes including yogalates and meditation. After my free week was over there, I heard of a new yoga studio opening called Spectra Yoga. They also gave me a free week which I greatly enjoyed. Right now though, I am starting an unlimited month at Ra Yoga (they had a Cyber Monday special) and I can't wait to start doing more yogalates classes there!
So if you love yoga and don't want to break your bank, check out some of your local studios and do a free week at all of them until you find your favorite one. If you really love a studio, don't be discouraged at the membership prices. Ask if they have any special programs such as the Studio Experience Team that CorePower offers and try to sign up for it! Being a part of a program (even if it's a cleaning program) will also bring you closer to the teachers and will allow you to meet new people! If all else fails, check out Groupon. Most of the chain yoga studios such as CorePower and YogaWorks will post Groupons for discounted unlimited memberships every now and then so keep your eyes peeled (and always read the fine print on those Groupons.) I recommend asking whatever studio you're wanting to buy a Groupon for first if they will allow you to use it before you purchase it. Sometimes if you have already done a free week, you aren't eligible to use that Groupon, so you may have to double check or get special permission from the studio.
A special note here: I live in Southern California (Orange County) so the membership rates at any of the studios here as well as the rates of pay/membership discount for the Studio Experience Team program at CorePower may be different in other parts of the country.
I hope this blog helps any yogis looking to improve and grow in their practice! :) Namaste.