Makeup may do magical things, but it doesn't have to be a mystery. Applying a basic, natural look doesn't require a lot of skill or tools. You can do lots of the blending with your fingertips, and choose to leave out certain products if they don't appeal to you.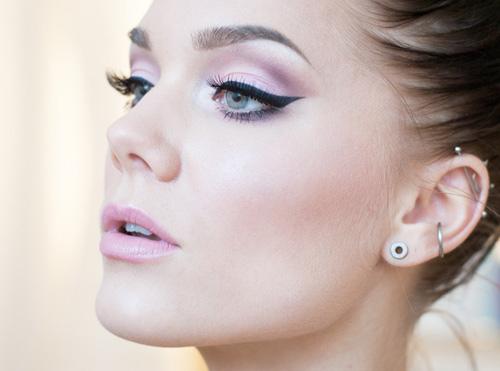 Part 1 of 3: Laying the Groundwork
1. Start with clean skin. Wash with a gentle cleanser or simply use a toner to wipe away any impurities from your skin.
2. Apply a light moisturizer. This will keep your skin from getting too oily during the day, and will help moisturize any dry patches on your skin.
Wait five minutes before putting on foundation (see the next step) so that the moisturizer can sink in
3. Dab on a tinted moisturizer or a light foundation to your skin. Apply just a few spots with your fingers to your forehead, cheeks, nose and chin, then blend with fingers or a foundation brush, working the spots outwards from the center in all directions.
If you want more coverage, you can use a makeup sponge to apply, using the same blending technique.
4. Put a little concealer under the eyes. Use a small pointed brush to dot a bit where under-eye circles are darkest, usually at the inner and outer corners of the eye. Add a speck to other blemishes that aren't covered by the foundation and blend into the skin.
There's a little controversy about whether a concealer should be the same shade as your skin or ever-so-slightly lighter; however, it should never be lighter than one shade away from your natural tone. Look for something as close as you can find to your skin tone and err on the lighter side if need be
5. Set the concealer and moisturizer with a translucent powder. Apply it to your face, ideally using a velvet-y powder puff (as opposed to a powder brush, as that leaves a lot of loose powder) in a pressing motion. Use a powder brush to flick off any excess. If you are using a powder brush to apply, tap off the excess powder before applying to your face in circular motions.
Part 2 of 3: Putting on Your Eyes
1. Apply an eyeshadow of your choice to your eyelid. For beginners, try a single neutral shade like taupe or aubergine. Use a rounded shadow brush or your finger and make quick, short swipes across the lid, working your way up to the brow bone.
The shadow should go from your lash line to just beyond the inner crease. From there it fades upward toward the bone.
Set with a thin dusting of translucent powder.
If you're using a brush, tap it lightly on the side of the eyeshadow case to remove any excess
2. Apply eyeliner. Use a black or brown pencil and apply along the rim of your upper lash line in short strokes.
Lift your upper lid with one hand and look down into a mirror as you apply with your other hand.
Eyeliner is one of the areas that you can really exeperiment with as you become more confident applying makeup. Factors like color, texture, and line application can have a big impact on the appearance of your peepers. Play around!
3. Curl your lashes. Place a lash curler at the base of your upper eyelashes (along the lid) and press for five seconds.
4. After this, apply mascara. Apply to the upper and lower lashes with the tip of the wand oriented towards the outer corner of your eye. One coat should suffice for this look.
Part 3 of 3: Adding Cheek and Lip Color
1. Apply blush to the apples of your cheeks. Smile as you do this so you can clearly see where the apples are. Dab on the blush and blend upwards towards your temples.
Try a cream blush for a natural glow that's easy to blend in.
If you opt for powder blush, use a brush that's fluffy yet dense. Dust translucent powder over it to blend the edges
2. Apply lipstick or lip gloss. Pucker your lips like you're about to plant a kiss and dab the lip color to the center of your upper and lower lip. This first application can be straight from the tube; then, use your fingers to blend outwards, adding color with your fingertips as needed.
If your lips are chapped, prep them before putting on lip color. Gently buff them with a warm, damp washcloth and put on a light layer of lip balm. Let the balm absorb before moving on to lipstick or gloss.
For beginners, the lips are a great opportunity to add color and vary your makeup regime without having to fuss over application technique, etc. You can work with anything from neutral, barely-there gloss to creamy, fire-engine red.
3. Check yourself in bright light – daylight if possible – to make sure everything is blended and beautiful. You're done!